Do Kids NEED a College Experience?
Do Kids NEED a College Experience?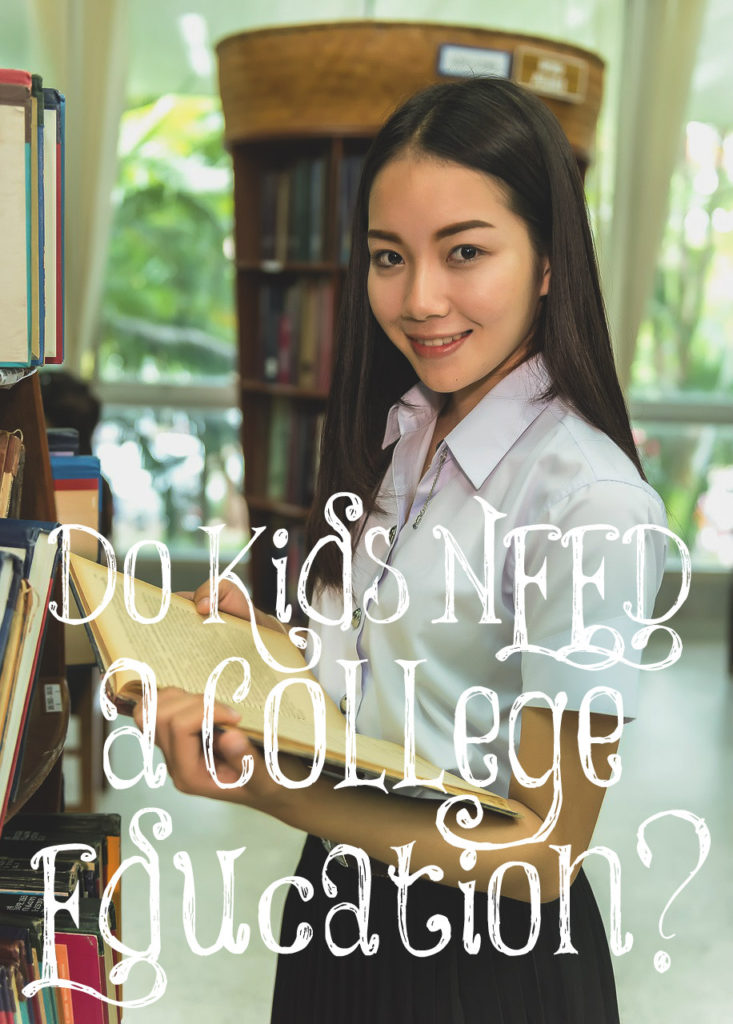 Jana Duggar just turned 28 years old. There was a post on the Duggar Facebook page wishing her Happy Birthday. Of course, there were many critical comments directed towards the Duggars under this post. Here is one that stood out to me:
"I would really like to see at least one of the Duggar girls go out on their own, without needing a man. Go away to college, or university and experience life in the outside world! You don't need to wait for a man!!! These girls rush into marriage, because they've been in the Duggar compound their whole lives, without experiencing the outside world, without the Duggar clan. Spread your wings and be an independent woman and find love the normal way."
Our culture acts like going to college is a rite of passage for young adults and needing a man is deeply frowned upon as if its a bad thing. Do young adults need to go away to colleges or universities to "experience the outside world?" Is this an "experience" that we should all want for our children even if they don't know what they want to do with their lives and our daughters only desire to be wives and mothers?
This is what Matt Walsh had to say about it:
"You can't spend $70,000 for an experience!…What is the experience in most colleges these days? …Moral degradation, casual sex, STDs, and maybe some liver damage." He mentioned the humanistic teaching that they will receive in most colleges, too. So is Jana missing out on life since she isn't going to college but staying home with her family which is the way that its been for all women since time began up until a few generations ago?
There's nothing biblical about young women going away to college. I am not calling it sin but the women learn nothing about godly womanhood unless they go to a strong Christian college, which there are very few. They will not learn how to have a strong marriage. They will not be taught how to raise children. They will not be taught to be modest, discreet, good, chaste, sober, or a keeper at home. They are taught the complete opposite!
They will be taught to be strong apart from the Lord and independent of Him and in no need of a man. In fact, they will be taught that there's no differences between men and women and be encouraged to be a man and take on his role. They will be taught about birth control, overpopulation, and the inconvenience of  having children. They will be taught to pursue careers so they can make a name for themselves and have money of their own. They will be taught nothing about God's ordained role for them but instead, spend a lot of money for their college education and gain a mountain of debt. In my day, college was affordable and not so humanistic but it is not this way anymore.
The Duggar young women want to be married and have children. This is all they want to do. It's all I ever wanted to do. It's a God-given desire and it is good. I don't mind saying that I need a man. I need my husband. He gave me children and worked hard so I could stay home with them. He helped me raise them. I am protected by him. Our children have been our greatest blessing and they are gifts that keep on giving!
When women of the world are encouraging the Duggars to get out of the "Duggar compound" you can know that they don't have the Lord's interests in mind at all. No, they just have their selfish, culturally-correct ambitions in mind instead that can't compare to God's role for women. Yes, there are a few who are called to singleness but they are to use their singleness for the work of the Lord, not their selfish ambitions.
What can be more important than being a help meet to a godly man who provides for and protects his family and raise godly offspring for the next generation? Nothing and everything good and I, for one, am thankful for the Duggar women wanting to marry, bear, and raise godly offspring just as the Apostle Paul instructed women to do in 1 Timothy 5:14. This is what our culture needs more than career women. The Duggars have been a wonderful example to many.
I will therefore that the younger women marry, bear children, guide the house, give none occasion to the adversary to speak reproachfully.
1 Timothy 5:14