Who Do You Want to Live For and Please?
Who Do You Want to Live For and Please?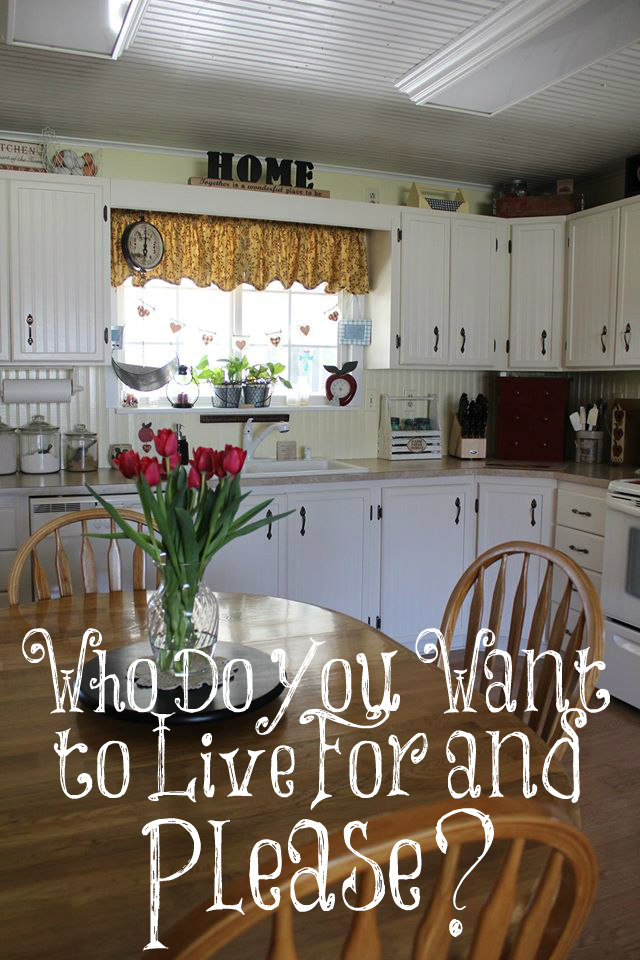 No one has to guess what God's will is for them. It is all clearly spelled out in His Word. We can usually figure out God's will for us by looking at our culture and doing the exact opposite since Satan is the prince of the power of the air and the Word of God is our instruction manual straight from the mouth of God. Therefore, we must all ponder who we want to live for and please. Do we want to go with the flow of our wicked culture (which is being exposed more every day for who they worship and what is important to them) or do we live sacrificial lives for the Lord in obedience to Him?
What is God's prescription for children? "…bring them up in the nurture and admonition of the Lord" (Ephesians 6:4). An important part of God's design for marriage is to bring up godly offspring (Malachi 2:15) because He wants a family, a remnant, who love and obey Him. Do the public schools do this in any way, shape, or form? No, yet we hand our precious children over to a godless institution for hours every day and most of their growing up years. They are taken away from their godly mothers and taught by strangers things that do not help them grow in godliness. God has given parents the responsibility to bring their children up in Him, not strangers who know nothing about the ways of the Lord.
What about single women? What is God's will for them? I love what Nancy Wolgemuth said about this: "But the priority that God places on the home—this passage assumes that young women will be wives and mothers. It's not saying if they're wives and mothers or if they decide they want to get married or if they decide they want to have children, then teach them these things. There's an assumption that young women will get married and will have children. At the risk of being truly politically incorrect, could I say this is God's norm? The implication is, as I look at not only this passage but the whole of Scripture, that as a rule young people are to be purposeful about getting married and about having children."
So what is God's prescription for women? That they may teach the young women to be sober, to love their husbands, to love their children, to be discreet, chaste, keepers at home, good, obedient to their own husbands, that the word of God be not blasphemed" (Titus 2:4, 5) and "I will therefore that the younger women marry, bear children, guide the house, give none occasion to the adversary to speak reproachfully" (1 Timothy 5:14). Do the universities and colleges teach any of this? Yet, parents are using their hard-earned cash or are causing their children to go deep into debt by sending their daughters off to godless institutions where most of the students are anything but sober on weekend nights.
Instead of being taught to love and obey their husbands, they are being taught to be like men in every way and that men are jerks, marriage is bondage, submission is slavery and children thwart their goals. They are taught to be indiscreet, impure, and not good by the things they are being taught and being exposed to in the curriculum and students around them. There is nothing decent or beneficial about universities for women that help lead them in the ways of godly womanhood. Nothing. Most campuses aren't even physically safe for young women anymore.
What is God's prescription for older women? "The aged women likewise, that they be in behaviour as becometh holiness, not false accusers, not given to much wine, teachers of good things" (Titus 2:3) and "Well reported of for good works; if she have brought up children, if she have lodged strangers, if she have washed the saints' feet, if she have relieved the afflicted, if she have diligently followed every good work" (1 Timothy 5:10). Are the godly women you know known for these things? Are they busy teaching the younger women, helping those in need, and serving others? It seems most older women have continued on in their careers, found jobs, retired to vacation, or anything but what the Word has commanded them to do.
The Church is weak in our culture for a reason. If we don't stand against the downwards flow of our culture and go in the opposite direction, we aren't helping anyone. We are called to be salt and light and if we lose our saltiness, nothing will be good. Many women are in rebellion to God's plan for them. People are looking for Christians who walk the talk; who live lives that are contrary to popular opinion, who are raising godly offspring, mothers who love their children more than their free time or careers and are sacrificially giving their time and energy to their families, and older women who are pouring their lives out for the  younger generation by helping and being an example to them of godly womanhood.