Her Sunny, Gladness Bringing Presence
Her Sunny, Gladness Bringing Presence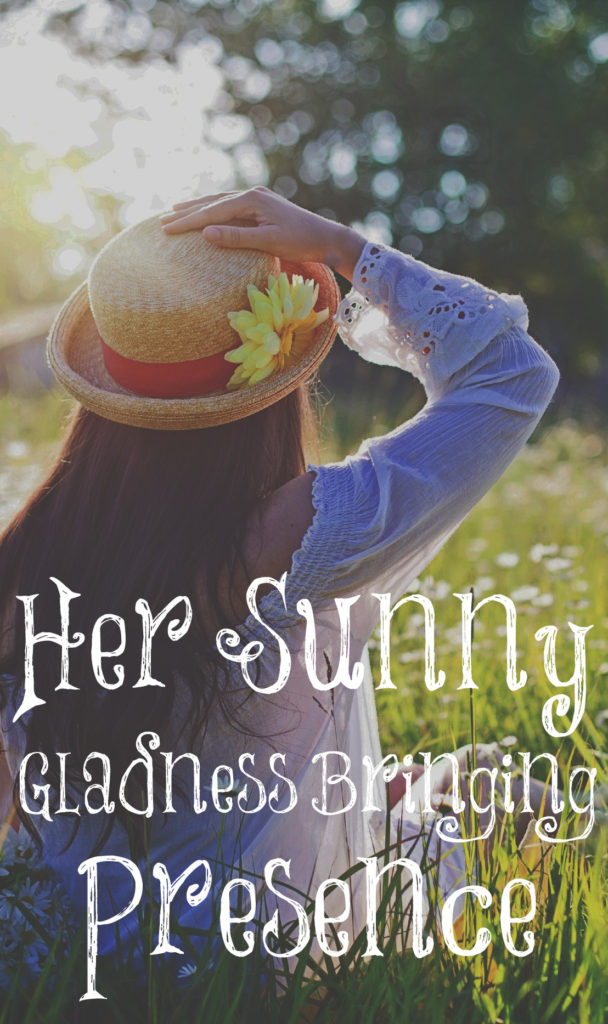 If you are married to a disobedient husband, you are not alone! Read about Abigail's husband. Now the name of the man was Nabal; and the name of his wife Abigail: and she was a woman of good understanding, and of a beautiful countenance: but the man was churlish and evil in his doings; and he was of the house of Caleb (1 Samuel 25:3).
 I loved the description of Abigail so I thought I would study it further since she didn't seem to lose her "beautiful countenance" even though she was married to a "churlish" (selfish, unfeeling, rude, rough in temper) man.
Elliot's Commentary had this to say about her: "Her name, too, which signifies 'whose father is joy,' was most likely given her by the villagers on her husband's estate, as expressive of her sunny, gladness-bringing presence. Her early training, and the question respecting the sources whence she derived her wisdom and deep, far-sighted piety."
Whenever I read about a woman with a sunny and cheerful disposition, I think to myself how much I want to be known for this but the unique quality about Abigail was that she was able to keep this beautiful attitude in spite of being married to an evil man. How? She put her hope and trust in the living God and not upon her husband or the state of her marriage. Therefore, she was able to keep her joy in the Lord and bring gladness to others.
Look what the Apostle Paul wrote while he was in a prison dungeon. Rejoice in the Lord always: and again I say, Rejoice (Philippians 4:4). We can't hope to find our joy and happiness in our circumstances, our husband or marriage because these will at times cause us conflict, heartache, and/or sorrow but Christ never will. He is the same yesterday, today, and always.
My viral post is going viral again. It's tragic to see how many angry, mean, and crass women there are today. They have no clue what being women of discretion and goodness looks like. The words that are being written on my Facebook page in the past few days are disgusting. Foul language spews out of their mouths and they have no problem ridiculing and trying to destroy others. I can tell you one thing about them, they have no joy. They aren't cheerful because they can't be happy while being so angry. They feed on being cruel and unfeminine while going around with a scowl on their faces and hating the ways of the Lord.
This type of behavior should have no part of our lives, women. When we disagree with someone, no foul word should ever exit our mouths. We are to be defined by kindness and speaking the truth in love. We are to hate what is evil and cling to what is good; for when we are clinging to the good, we will most likely be cheerful and joyful as we remind ourselves that the joy of the Lord is our strength.
I watched a movie the other day about a sad and disheartened man who began to spend time with a very cheerful woman. She changed him and it wasn't by trying to control him. Her sunny disposition brought joy and happiness into his life. Do you bring joy and happiness into your husband's life and other's? Being joyful is a choice you make each and every moment. You can't be joyful if you are critical and controlling so give up those ways and choose joy! Sing and make melody in your hearts unto the Lord even if you are married to a churlish husband or in difficult circumstance.
A merry heart doeth good like a medicine.
Proverbs 17:22