Household Inequality is Domestic Abuse?
Household Inequality is Domestic Abuse?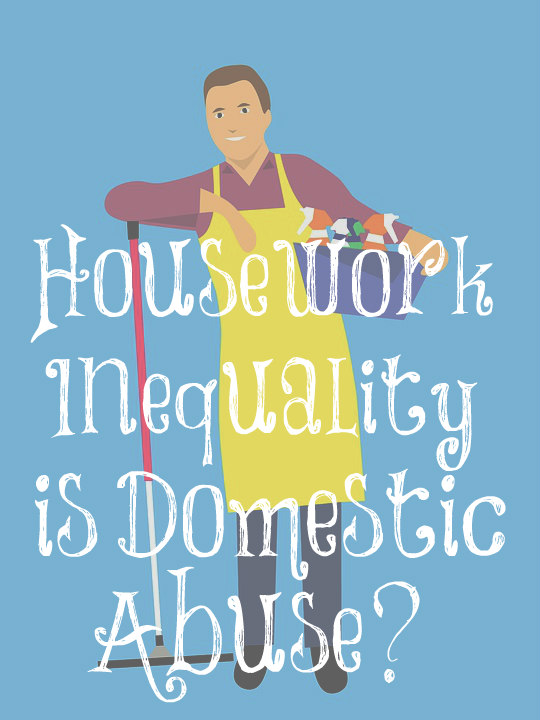 "We need to stop framing equality as a nice bonus to a happy marriage. It is the bare minimum. Inequality is not inevitable. It's not just the way men are, or a minor inconvenience. It's time women listen to their own needs and value their own work. Household chore inequality exacts a real toll on our health and well-being. It is abuse. Like other forms of abuse, it exploits one person for the other's gain. And like other forms of abuse, there is no excuse," declares Zawn Villines in her article entitled, "Household Labor Inequality is Domestic Abuse."
What is her solution? "A man who can happily watch his wife work herself into illness and depression does not care about his wife—or his children. Kick his a** to the curb. Every woman deserves better. Every child deserves to grow up in a house that acknowledges the full humanity and needs of both parents. This abuse can stop with our generation of mothers, but only if we demand better."
This is what feminism has led to, women. It's led to the deterioration of marriage. "Abuse" being the term used for many things that aren't actual abuse. Women becoming angrier and initiating almost up to 80 percent of divorces and devastating their children's lives. It was women who wanted out of being keepers at home, so they left their home in droves for careers. The thing is that most men didn't want to be keepers at home. They weren't created to be keepers at home. God created women to have this job and this is why there is such a struggle with housework. Even full-time working mothers have most of the housework fall upon their shoulders, because they were created to do this no matter how much they hate it.
Yes, some husbands help and share equally in the household chores but many do not. This is what my first viral post was about. Housework has destroyed way too many marriages and it's due to women leaving their God-ordained roles. God created women to be their husbands' help meets not the other way around but feminism has forced husbands to be their wives' help meets even if the husbands don't want to be. Women demand it.
Young women, marry a man who wants you to be home full time raising your children. Marry a man who wants to be the protector and provider of his family. Make sure he understands God's perfect role for the husband and the wife before marrying him. There are too many women who write me who would love to be home but their husbands don't want them to be, so they come home each night exhausted and housework becomes a big, divisive issue in their marriage. It was never intended to be this way. If you marry a man who wants to be the provider, work hard on being the best help meet to him that you can be and learn to enjoy being a keeper at home; for this is what God created you to be and do.
And whatsoever ye do, do it heartily, as to the Lord, and not unto men.
Colossians 3:23