Is a Patriarchal Nation a Bad Thing?
Is a Patriarchal Nation a Bad Thing?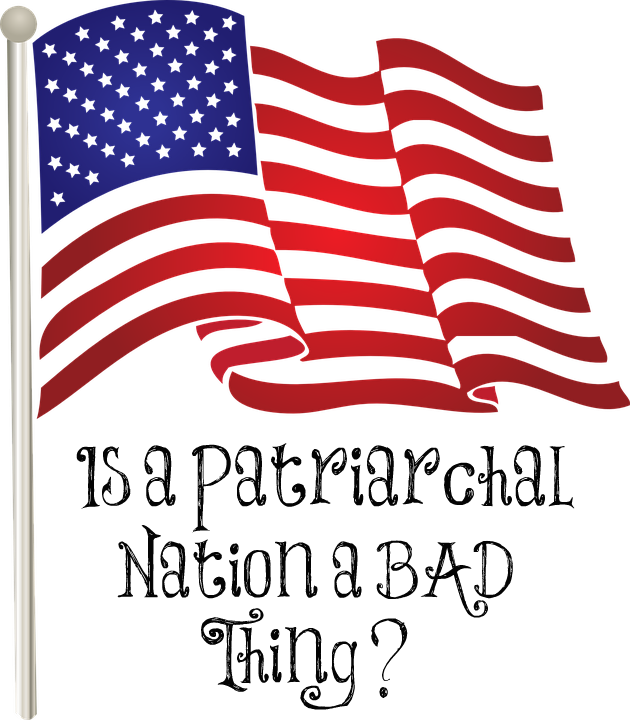 Feminists have twisted the word "patriarchy" to make it a despised word. What does patriarchal mean since I sure hear women throw it around a lot trying to convince people that America and men are bad? According to the dictionary, it means "relating to or characteristic of a system of society or government controlled by men." When these women speak of patriarchal, they act as if America is this way. We have women in every branch of government except the presidency (which almost happened this last election) yet they still falsely believe that America is patriarchal.
I asked the women in the chat room what they thought about patriarchal and here are a few of the great responses:
"The 12 tribes of Israel were patriarchal, because that is how God designed society to function. Men led the tribes, the clans, and the families. Men were the priests, the prophets, and the teachers. Even before the Law was given through Moses, men were leading their families and societies. We see that with Adam, Noah, Abraham, Isaac, Jacob, and Joseph. These men were called to make the big decisions, and their wives were called to support them and bear them heirs to their inheritances. Feminists are mocking God, whether they know it or not, when they attack the 'patriarchy,' as it was instituted by Him" (Paige).
"When I hear or see the word patriarch, I think of a strong, wise, and/or powerful man. To me, a patriarchal society is one that is led by such men. Men can and do abuse their power, which is sad. But civilization was built by patriarchy. God initiated patriarchy, so it has to be the better way. Matriarchal societies tend to be primitive, superstitious, and for the most part, failures" (Cathy).
Former Secretary of State and presidential candidate Hillary Clinton said, "Despite all the challenges we face, I remain convinced that yes, the future is female." She, along with many others, believe that this country will be much better off if it was solely run by women. Is she accurate? Not according to the Word of God. "As for my people, children are their oppressors, and women rule over them. O my people, they which lead thee cause thee to err, and destroy the way of thy paths" (Isaiah 3:12).
God's plan is for men to be the one's in leadership positions in the home, churches, and nations, as clearly seen in His Word. No, it doesn't mean men are necessarily and always better at leading than women would be but, in general, men make better leaders because of the way God created them. He is a God of order and in His order, men are those in authority but many women, even some Christian women, rebel against this idea. They have fallen for the feminist thought process that believes that women are better leaders and deserve to be leaders in the homes, churches, and nations. How can they believe something that God opposes? Jesus could have easily chosen a female disciple but He didn't. Yes, He loved and cared for women, as we can see from Scripture, but He never put them in leadership roles.
Just because women aren't called to be leaders and those in authority doesn't mean they are any less. Their roles in the homes, churches, and nations are just as valuable! Mothers are raising the next generation. What can be more valuable than that! Those who aren't mothers are serving and loving others since women were born with a nurturing spirit. Our nation is a nation of loneliness and hurt. It desperately needs a woman's touch in the lives of many. Dear women, be that touch to someone hurting and in need and celebrate the beautiful role the Lord has given to you.
By faith Abraham, when he was called to go out into a place which he should after receive for an inheritance, obeyed; and he went out, not knowing whither he went. By faith he sojourned in the land of promise, as in a strange country, dwelling in tabernacles with Isaac and Jacob, the heirs with him of the same promise.
Hebrews 11:8, 9