Romance Novels Destroy True Love
Romance Novels Destroy True Love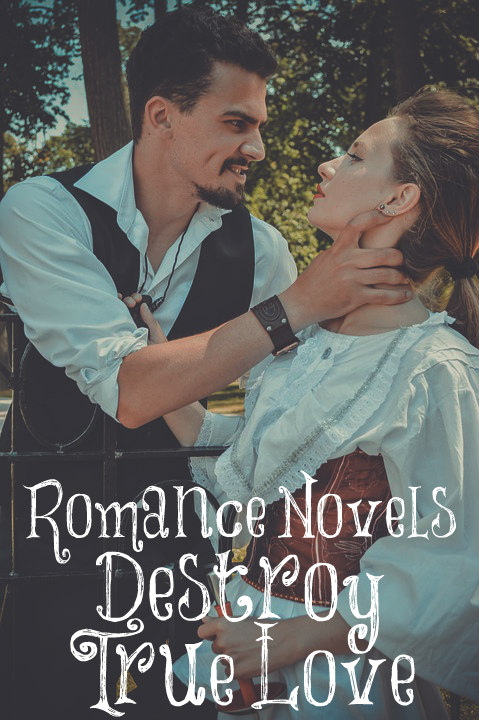 Written By Amber Haring
I love to read! And yesterday while I was perusing the book section at Target (read- throwing five books at a time into my cart), I noticed the huge section of romance novels. And right next to them was a section on loving yourself and the self-help section and it got me reminiscing on old habits and life lessons. I used to read romance novels all the time! I loved them!
In fact, one summer I read close to 20 romance novels. My bookshelf was full of them! But one day I got to thinking about my relationship with my then boyfriend, and now husband, and how I wished our relationship looked more like the ones I was reading about and I started to become unhappy and dissatisfied in our relationship. I began to have thoughts of "Well, if he truly loved me, he would be doing this or that" or "He would understand me in this way," just like the "love stories" I had been reading.
Then it hit me square in the face- it's all a lie! Their love stories that seem so perfect, and how the women all get butterflies with the sweet nothings whispered into their ears by the men, and all those feelings that you get when you read romance novels- it's all a LIE! Romance novels are all based on feelings. True LOVE is based on a CHOICE! Because the truth is, you're not always gonna get butterflies when you look at your spouse, or have those mushy feelings about them. In fact, sometimes you won't even like your spouse.
But true love is a choice you make day in and day out to love them even when you don't like them. There's nothing #relationshipgoals about romance novels. Relationship goals should be the couple who's been married for 70 years and still flirts with each other like they did when they were 17, or the couple who has experienced tremendous loss and been through trials that would have torn apart the average couple, but instead of faltering, they come out stronger than ever.
Those relationships are REAL. And just like pornography puts unrealistic expectations on relationships, romance novels and movies do the same thing! So let's call them word porn. And when you replace the reality that is your love for your spouse with the lies that are romance novels and movies, and you hold your spouse to these UNREALISTIC expectations, you are in my opinion dooming your relationship! The relationship in the book is made up. YOURS IS REAL!
And most of the time, in those romance novels, the feeling is LUST and not LOVE! But oh how easy it is to confuse the two! If people spent half the time cultivating their LOVE for their spouse that they spend exposing themselves to the lust-filled lies that are the majority of today's romance novels and movies, I believe more relationships would flourish. I am a firm believer that what you put in you will get out. This includes what you eat, what you read, what you watch, and what you listen to.
When we constantly fill our minds with romance stories filled with lust portrayed as love, and unrealistic expectations of what love is "supposed to be" then we begin to believe it- whether we realize it or not. It's not just a book or a movie. It becomes a part of who we are and what we believe, and THAT is where it impacts our relationships. When I started focusing on our REAL relationship instead of my fantasy of what our relationship "should be" that these books and movies had placed in my head- THAT'S when our relationship really started to flourish and THRIVED!
Whether you're single or have been in a relationship with the same person for 30 years, if you're filling your head and heart with these "love stories" you'll spend the rest of your life searching for something that simply doesn't exist, whether it's a conscious effort or not. So I challenge you to take a break from romance novels and movies. Start focusing on your own love story, work on making it beautiful, and I guarantee you that the next time you watch a romance movie, or want to get ensnared into a book, you'll look at the relationship with a new perspective and say that relationship doesn't hold a candle to mine!
Be ye therefore followers of God, as dear children; And walk in love, as Christ also hath loved us.
Ephesians 5:1, 2