Is Living Together the Same as Being Married?
Is Living Together the Same as Being Married?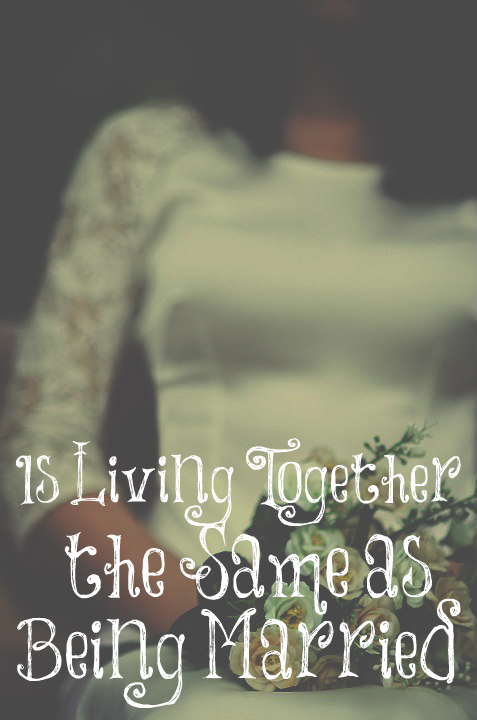 What is marriage? This is disputed by many. Is it simply a piece of paper? I believe marriage is a commitment for life. It's becoming one flesh with another human being. The man leaves his father and mother and clings to his wife. They have children together if they're able. Living together is not a commitment for life. It's living together until "we no longer are in love." It's fornication which is forbidden by God. "Marriage is honourable in all, and the bed undefiled: but whoremongers and adulterers God will judge" (Hebrews 13:4)
The 1828 Webster Dictionary defines marriage this way: "The act of uniting a man and woman for life; wedlock; the legal union of a man and woman for life. marriage is a contract both civil and religious, by which the parties engage to live together in mutual affection and fidelity, till death shall separate them. Marriage was instituted by God himself for the purpose of preventing the promiscuous intercourse of the sexes, for promoting domestic felicity, and for securing the maintenance and education of children."
Some will continue to argue that "living together" is marriage. Like I wrote, I believe it is fornication. Fornication is sexual intercourse between two people who are not married. Those who live together don't want to be married so why should we try to rationalize that they are just because they are having sex together? Yes, they are living like husband and wife but without the life long commitment/covenant of marriage. Love and marriage are a commitment and a decision. They have nothing to do with emotions and feelings. No, they are becoming one flesh until death do they part.
When Jesus met the woman at the well, He asked her to go get her husband. She said she had no husband. Jesus answered her, "For thou hast had five husbands; and he whom thou now hast is not thy husband" (John 4:18). Here He acknowledged that just because she is living with a man doesn't make him her husband.
It's no consequence that the first miracle that Jesus performed was at a wedding. A wedding is a celebration of a man and his wife getting married. Jesus celebrated this! This is His will for all believers in Him. The uniting of a man and woman in holy matrimony is something to be greatly celebrated!
Many believe that they must live together before marriage in order to "try it out." Does this work? No. "The premarital cohabitation effect is the finding that those who live together prior to marriage are more likely, not less, to struggle in marriage. It has a long and storied history in family science…They find that living together before marriage is associated with lower odds of divorce in the first year of marriage, but increases the odds of divorce in all other years tested, and this finding holds across decades of data." This, young women, is the reason that you need to know that love is not a feeling and living together is not marriage.
Teach your daughters from a young age that boyfriends do NOT receive husband privileges. Only a man who has vowed and made a covenant to love them all of the days of their lives and marries them receives husband privileges. A marriage depicts Christ and His Church. Christ isn't just "living" with His Church. No, He's committed to His Church. He made a New Covenant with her. He loves His Church enough to die for His Church.
For this cause shall a man leave his father and mother, and shall be joined unto his wife, and they two shall be one flesh. This is a great mystery: but I speak concerning Christ and the church.
Ephesians 5:31,32