Putting Away Our Childish Ways
Putting Away Our Childish Ways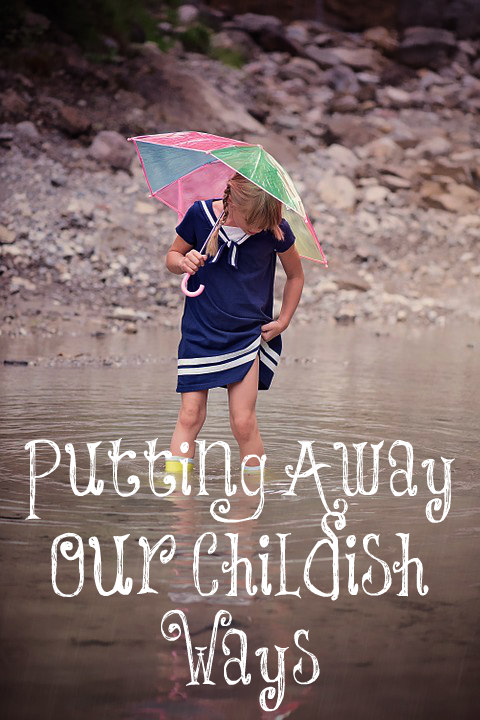 In the first ten or so years of our marriage, I would cry if my husband did something that hurt my feelings or I didn't like. I never do this anymore and haven't for many years! "When I was a child, I spake as a child, I understood as a child, I thought as a child: but when I became a man, I put away childish things" (1 Corinthians 13:11). I no longer use my emotions and feelings to try and manipulate my husband in order to get my way, thankfully!
I asked the women in the chat room, "What is something you did in the early years of your marriage that you don't do anymore? Actions that prove that you have put childish ways behind you?"
Maicie: "If I got mad about something I would let it effect me for days. Now sometimes I may go to bed upset (not mad and angry) but I do not allow it to carry on into the next day."
"Be ye angry, and sin not: let not the sun go down upon your wrath" (Ephesians 4:26). The only things you should be angry about are sin and Satan. Yes, be angry if you find out your husband has been viewing porn but then hand it over to God and pray for your husband. Don't get angry if he didn't hang up his towel, help you with the children, or watches too much TV.
Sabrina: "I was beyond disrespectful to my husband. I cringe thinking about this and am now diligent about my behavior when it comes to this."
"…and the wife see that she reverence her husband" (Ephesians 5:33).
Cassie: "I had to have everything my way. I wore the pants and totally disrespected him all the time. One of the biggest ways I have changed is that I used to ask my husband how he wanted to handle something, say a behavior issue with our son, then I would ask my mom. If her thought was different than his (which usually it was), I would do it the way my mom said and just ignore my husband's opinion on the matter."
"Therefore as the church is subject unto Christ, so let the wives be to their own husbands in every thing" (Ephesians 5:24).
Jennifer: "I never took time for him. I always put everything before him. Now he comes first. Even if I am busy or on the middle of something, if he speaks to me, I give him all my attention."
Sarah: "I used to leave a note for my husband when he got home from work (he works nights and has our entire married life) with all the chores I 'needed' him to do for me."
"And the LORD God said, It is not good that the man should be alone; I will make him an help meet for him" (Genesis 2:18).
Denise: "I used to argue about anything and everything that didn't go as I wished. My husband always says he doesn't know who I've been listening to about being a good wife but he sure is happy things have drastically changed. A lot of my new found wisdom comes from this page and an open heart and mind to obey God's true meaning of my role."
"She will do him good and not evil all the days of her life" (Proverbs 31:12).
Andrea: "That's such an awesome testimony ❤️ if more women would take godly advice instead of arguing and getting upset. God's way is the only perfect way and godly advice will never harm us but help us. I used to nag at him and get so upset because he did things I thought were wrong (hobbies) instead of paying attention to me 🤦🏻‍♀️ or being more 'spiritual.' I was a mess!"
"It is better to dwell in the corner of the housetop, than with a brawling (quarreling) woman and in a wide house" (Proverbs 25:24).
Meghan: "Thank God I'm not how I used to be but I still have way more growing to do in this area. This group has been a great help to me. Thank you all for sharing! It's very encouraging!"
"But exhort one another daily, while it is called Today; lest any of you be hardened through the deceitfulness of sin" (Hebrews 3:13)
Paige: "I always found something to be angry about. I lost my temper often over little things. I didn't appreciate him but expected him to be my servant basically."
"A continual dropping in a very rainy day and a contentious woman are alike" (Proverbs 27:15).
Evangela: "I use to lecture him if I didn't feel heard. I'd say the same thing over and over in a different way and just keep talking endlessly. He'd zone out, and I'd talk more. Now I just say something once and then drop it. If he doesn't want to hear me, I'm not insulted. If I have something really important to say, I use only three or four sentences. It makes me think before I speak so I know exactly what I'm saying."
"She openeth her mouth with wisdom; and in her tongue is the law of kindness" (Proverbs 31:26).
Who can find a virtuous woman? for her price is far above rubies.
Proverbs 31:10