Sending Daughters to College to Find Husbands
Sending Daughters to College to Find Husbands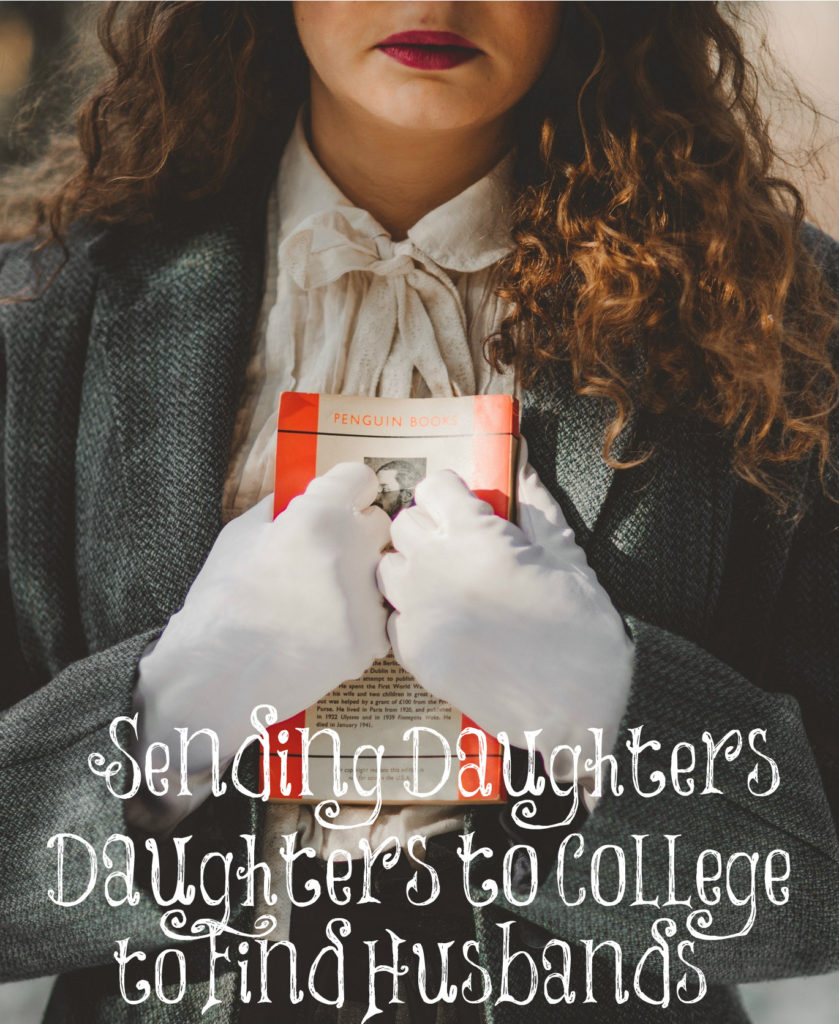 Today's culture insists that young women go to college and pursue a career "just in case" and some parents send their daughters there to find a husband. I found Ken (well, he found me) at college, however, our  Christian college only cost $3500 per year back then which included tuition, room, and board. My best friend even paid her own way by being a waitress in the summers and cleaning bathrooms during the school year. That same college costs $55,570 a year now. My friend could have never just cleaned bathrooms and been a waitress during the summers to pay off this kind of debt. Since colleges are so expensive now, should young godly women have their parents go into debt in hopes of finding a husband? NO!
Out of all my friends that attended Westmont College, only a handful found their husbands there. God doesn't need parents to spend thousands of dollars that they don't have to help their daughters maybe find a spouse, especially if their daughters' greatest desire is to get married, bear children, and be the one home to raise them. Debt is a negative thing according to the Word. Owe no man any thing, but to love one another (Romans 13:8). Many young women who go to college and gain a lot of debt have to continue to work even after they have children to pay it off. It's ridiculous, especially since the Lord doesn't care about higher education, careers, and debt is a bad thing.
I took a poll in the chat room to see how the women found their husbands. Most of them found them at church. This is a wonderful place to go and be involved in for daughters who are looking for a husband. Having a marriage based upon the Lord is the most important thing in a marriage. Christ needs to be the foundation. The second most popular place they found their husband is the workplace. Working side-by-side all day long five days a week with members of the opposite sex is a recipe for relationships to begin. (This is dangerous for those who are married for the same reason.) The third place was "none of the above": a party, youth camp, conference, square dance lessons, wedding reception, and at a bar (which I don't recommend)! They just randomly met their husbands somewhere. God can do this, you know. The fourth place was they were introduced by a friend. I introduced my best friend to her husband! Fifth place goes to the Internet. Then way down in sixth place was college.
As you can see from this unscientific poll, parents don't have to spend a ton of money and go into debt hoping their children will find a spouse. Most Universities are cesspools any ways in what they are being taught, what they hear, and what they see, especially if they live on campus. "But shun profane and vain babblings: for they will increase unto more ungodliness" (2 Timothy 2:16).  None of the Duggar children found their spouses this way. They found them on mission's trips, from childhood, from church, etc. We don't have to put God into a box and think He only works through expensive colleges (which is this culture's corrupt norm) because He does not.
God doesn't need college to find spouses for our children. Most people in the history of the world found spouses without expensive colleges. If your daughter has nothing she wants to do with a college education but wants to go for the fun of it and possibly to find a husband, I would strongly recommend against it. Find a strong Bible teaching church around your area and have her get involved ministering there instead. This is a much better place to find a husband.
Be ye not unequally yoked together with unbelievers: for what fellowship hath righteousness
with unrighteousness? and what communion hath light with darkness?
2 Corinthians 6:14