She Believes in Radical Femininity
She Believes in Radical Femininity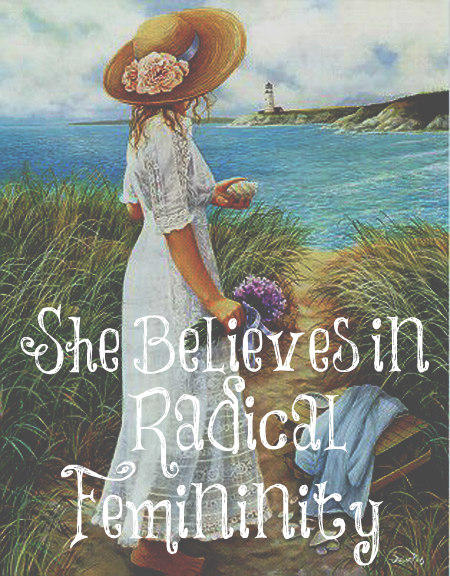 Written By Holly Bennington
I believe in "radical" femininity. Why? Because I believe in the Bible's definition of womanhood and embrace the things that make me truly feminine. I believe that through being a woman (womb-man), and embracing my God-given role as a help meet to my husband and a nurturer to my children, I bring the most glory to God, and fulfill my deepest God-given desires.
I'm "radical" because I see my womb, the fruit of my womb (my children), and my responsibilities as a wife and mother as a sacred gift from God, not as a hindrance or a consequence. I don't consider my career in the home demeaning or confining, but rather a privilege and place of liberation where I am free to raise my children up in safety and in Truth. In a world that is confused and broken, home is a beautiful haven of security and peace where we can till and prepare the tender hearts of our children until they are strong and mature enough to handle the storms of life on their own.
I'm "radical" because I don't view submitting to my husband as offensive or demeaning, but as an expression of respect and humility that recognizes the God-given leadership as put in place for my own physical and spiritual protection (and which I would gladly choose any day over submitting to a boss outside of the home!).
I'm "radical" because just like I trust God with other aspects of my life and welcome His many other types of blessings, I also trust him with my beautifully-designed fertility and welcome His blessings of children! In a world that values self over others, confuses gender "equality" with sameness rather than embracing our complimentary uniqueness, and exalts autonomy and success over selflessness and sacrifice, I am "radical" because I believe God's design and God's word is the ultimate authority, is the most truly loving path, and is what will ultimately heal our world…and our hearts.
The aged women likewise, that they be in behaviour as becometh holiness, not false accusers, not given to much wine, teachers of good things; That they may teach the young women to be sober, to love their husbands, to love their children, To be discreet, chaste, keepers at home, good, obedient to their own husbands, that the word of God be not blasphemed.
Titus 2:3-5
*Picture by Susan Rios