Temperate in All Things
Temperate in All Things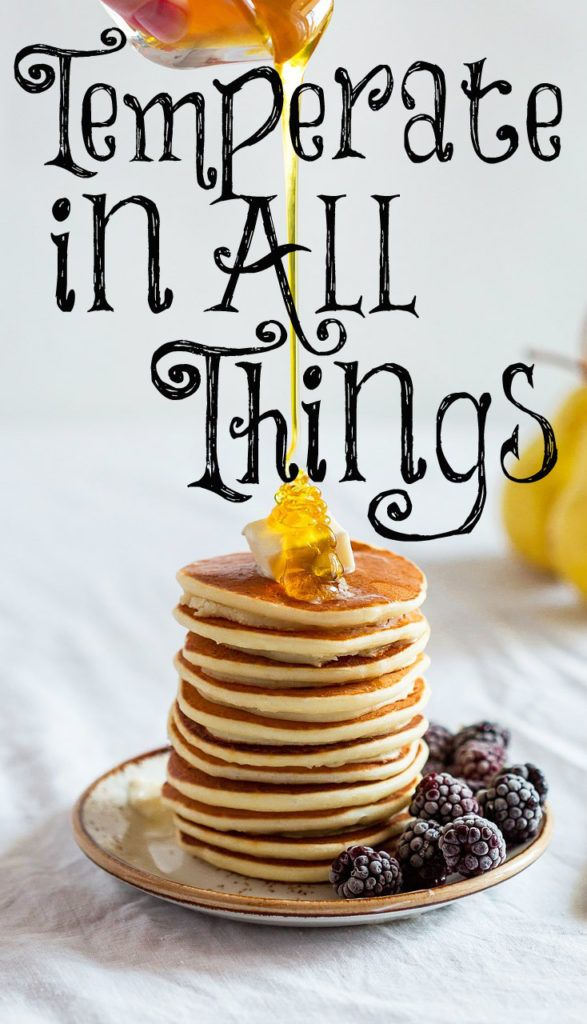 We live in a time of excess. We eat too much. We are entertained too much. We own too much. We sleep too much. We work too much. We spend too much money. We eat too much junk food. We shop too much. We spend too much time on Facebook. We seek pleasure too much. We are idle too much. The Apostle Paul is a good role model for us since he disciplined his body so that he would be temperate in ALL things.
And every man that striveth for the mastery is temperate in all things. Now they do it to obtain a corruptible crown; but we an incorruptible; I therefore so run, not as uncertainly; so fight I, not as one that beateth the air: But I keep under my body, and bring it into subjection: lest that by any means, when I have preached to others, I myself should be a castaway (1 Corinthians 9:25-27).
Temperate means "moderate in the indulgence of the appetites and passions; as temperate in eating and drinking; temperate in pleasure; temperate in speech." It is practicing self-denial and doing what is good and right.
Do you say "no" to yourself when it comes to eating and food? Do you have to eat something before you feel a hunger pain? Do you continue to eat even after you are full? Can you ever go between meals and not snack? Do you consistently show self-control when it comes to eating? Does food have control over you instead of you controlling your appetite?
Feed me with the food that is my portion (Prov. 30:8) Every time before you eat ask the Lord to help you to only eat your portion and no more.
How about drinking? Are you controlled by that cup or four cups of coffee in the morning? Has this become an addiction? If  you drink alcohol, can you still remain sober and only have a "little bit" or "not much" as we are told to do concerning alcohol? What about sodas? Knowing that they are full of sugar or fake sugar and are health destroying, can you give them up completely or only have them once in a while? Does your coffee, alcohol, and sodas control you?
What about stuff? Do you go shopping and buy things even though you don't need anything? Are there a lot of clothes hanging in your closet that you don't wear? How many pairs of shoes do you own? Do you waste money on things of this world instead of investing in things eternal? Have you learned that godliness with contentment is great gain and have learned self-control in consuming things, knowing that they will all burn one day?
Are you moderate in your passions or do they control you? Do you dwell on the lovely and the pure instead of on some other man who isn't your husband? Do you flirt, dress immodestly, or act unbecomingly when men who are not your husband are around? Do you watch shows or read books that cause you to be discontent with your marriage? Or do you concentrate on all of the good qualities in your husband and dwell on them instead?
As John Piper preached, "One of your selves will tell you until the day you die — I speak as a 71-year-old warrior with this old self — 'Come on! If we can just accumulate more of this world, more possessions, more protections, more insurance policies, more symbols of power, more possibilities of bodily pleasure then we will have real life — the only life there is.' He is a liar. You won't save your life that way. You will lose it. Even if you gain the whole world.
In the next sixty years of your life scarcely a day will go by when the message: having things is having life. To which Jesus says, no, having things is not life; having me is life. 'Whoever loses his life for my sake and the gospel's will save it.'"
If you are a Christian, you are filled with the Holy Spirit and one of the fruits of the Spirit is temperance. But the fruit of the Spirit is love, joy, peace, longsuffering, gentleness, goodness, faith, Meekness, temperance: against such there is no law (Galatians 5:22, 23) We should be known for our self-control and moderation in all of our appetites and passions.
If you struggle in any of these areas and feel like a failure, remind yourself that Christ's power works in and through you. You can do all things through Christ who strengthens you! You aren't left alone to do it by yourself. The Apostle Paul told us that God's Spirit worked mightily within him.
Begin memorizing verses about self-control, for we are transformed by renewing our minds with truth. He that hath no rule over his own spirit is like a city that is broken down, and without walls (Proverbs 25:28). For God hath not given us the spirit of fear; but of power, and of love, and of a sound mind (2 Timothy 1:7). Do you keep your body under and bring it in subjection or do you allow your appetites and passions to boss you around and control you?