His Children Will Not Ride the Train to Hell
His Children Will Not Ride the Train to Hell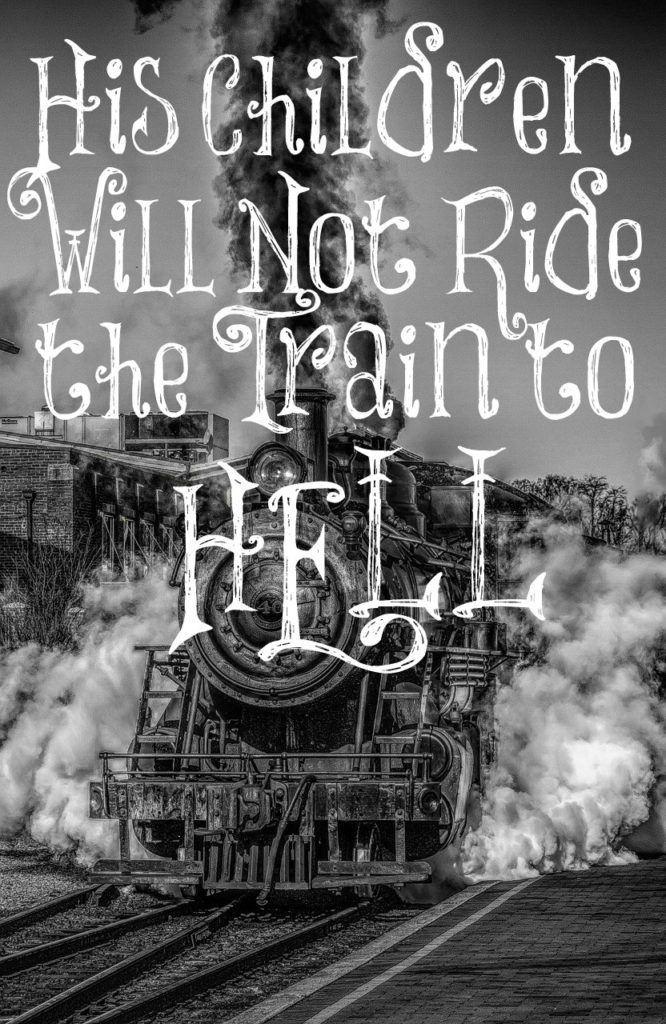 When I was growing up in the 60s and mid-70s, there were things I wish my parents had protected me from. They grew up way before the 60s and times were definitely more innocent then. Everyone knew it was shameful to have sex before marriage. Modesty was in fashion and women mostly wore dresses. When my mom when on a date, she didn't have to worry about the guy trying to get something from her at the end. My parents had no clue how bad culture had gotten for us.
I wish my parents had never let me go out on a date alone, especially with a non-believer. I wish they never let me go to other people's home for sleepovers since nothing good ever happened at them. I wish they never let me go to a "wild" party where everyone was drinking, taking drugs, and many were sleeping around. I never fit into this life and hated even being there but it was the thing to do when I was in high school. I wish I never went to public junior and high schools. I saw and heard way too many things that I should not have at that age.
I did go to Christian summer camps from third grade to high school and absolutely loved them! I believe these are what solidified my faith in Christ. I don't ever remember anything bad (in the way of immoral) ever happening during any of those times. I'm not sure about sending children to them today, however, with the advent of iPhones and Internet that make porn and all other types of debauchery easily at one's fingertips. Most parents don't try to protect their children from this stuff and they can easily pass it on to other innocent children
Micheal Pearl wrote an article called Sanctuary where he explains how they protected their children. No, I don't think parents can be too overprotective in our culture. Children need and want boundaries and protection. "You are sadly mistaken if you think that kids who spend 30 hours in public schools each week are somehow going to be purged by two hours in church on Sunday. The fact that their parents are Christians and 'love the Lord' is not going to diminish the influence of 30 hours of intense indoctrination each week. The same applies to any corporate classroom setting, including church schools. When you get 25 kids together, you have a complete representation of every kind of evil. And you'd better believe that kids love to share!"
The things children are being exposed to in the high schools today I can't even imagine. I was exposed to pornography in junior high! A mother told me recently that the local high school that her son attends is the darkest place she has ever stepped foot on. Why would we want our children to spend their days in a place like this? A place that we wouldn't want to spend our time in? We all can hear what music children are being exposed to and catch glimpses of what TV and movies they are seeing. There's little decency and purity out in the public at large.
"Children mature morally by resisting evil, but if it comes at them too fast, too often, and from influential peers, they will become desensitized and sin will begin to appear less evil to them. We can no longer be lax about who and where are children spend their time. We must be vigilant! 'Be sober, be vigilant; because your adversary the devil, as a roaring lion, walketh about, seeking whom he may devour' (1 Peter 5:8).
"First, please DO regulate their environment and associations. Over the years as our children were growing up, Deb and I offended about every family member and some of our friends by being 'overprotective' of the innocent charges God sent into our care. We guarded them from any suspect company and thoughtfully planned their associations. We have not trusted 'good Christian families.' We have not participated in churches where the children were separated from us. After church, we watched them and their associations.
"When kids stop running around in circles, screaming, and start talking, or drawing aside, you've likely got the beginning of troubles brewing. Keep the little ones standing right beside you after church. They should always sit with you, never with their friends. If they go out to the bathroom, go with them. Never allow them to spend the night with friends or cousins. Slumber parties are sin parties. Never allow them to listen to music through headphones. Three-minute phone conversations, no chat rooms, no surfing the web for any reason. Parents should make it physically impossible for them to even access the web. We didn't allow our children to spend time in their bedrooms unless they were working on a project or reading. Bedroom doors were always kept open, except for two minutes while dressing.
"On occasions when I have made these same remarks in public, people have asked, 'What's wrong; don't you trust your children?' I answer, 'Of course not; you think I'm a fool? My children are flesh and blood, just like their daddy. They are descendents of Adam. The Devil is still active and wants their innocence. Having descended through me from fallen Adam, I know they are endowed with an all consuming passion to know good and evil. Why should I trust them?'
"Those of you who think I am too hard, too protective, and too distrusting, keep in mind that all my children are grown and married now. They have demonstrated themselves to be solid citizens and emotionally stable. They all came to marriage as virgins and are now happily married. They will never divorce. We are delighted with them, and they are delighted with us. What more could you want in this life? Their memories of life with us are not measured by the things we didn't allow them to do, but by the many activities that we did with them. We kept their lives full of fun and creativity. They had friends and spent time with them, under controlled circumstances.
"Structured Christianity is not what it was even thirty years ago. As the world's standards have plunged, the 'church' has followed it—staying about ten years behind. Take charge of your family. Put on your armor and make sure it covers your children. And while you have the chance, fit them in their own armor, and teach them carefully to identify the enemy.
"The homeschool movement is more than an educational alternative. It is parents putting on the brakes and saying, 'my children will not ride this train to hell; I will take charge and direct my family in a different path.' You are part of a cultural shift, and a spiritual awakening. We are in the midst of a revival of the family. It must extend to a revival of community as well. The public church is no longer to be trusted with your children any more than the public schools.
"We are seeing beautiful fruit come out of the homeschool movement. Be vigilant, and don't let it spoil before it ripens to produce more fruit of its own."
…bring them up in the nurture and admonition of the Lord.
Ephesians 6:4