Working Mothers and Public Schools Produce Mentally Ill Children
Working Mothers and Public Schools Produce Mentally Ill Children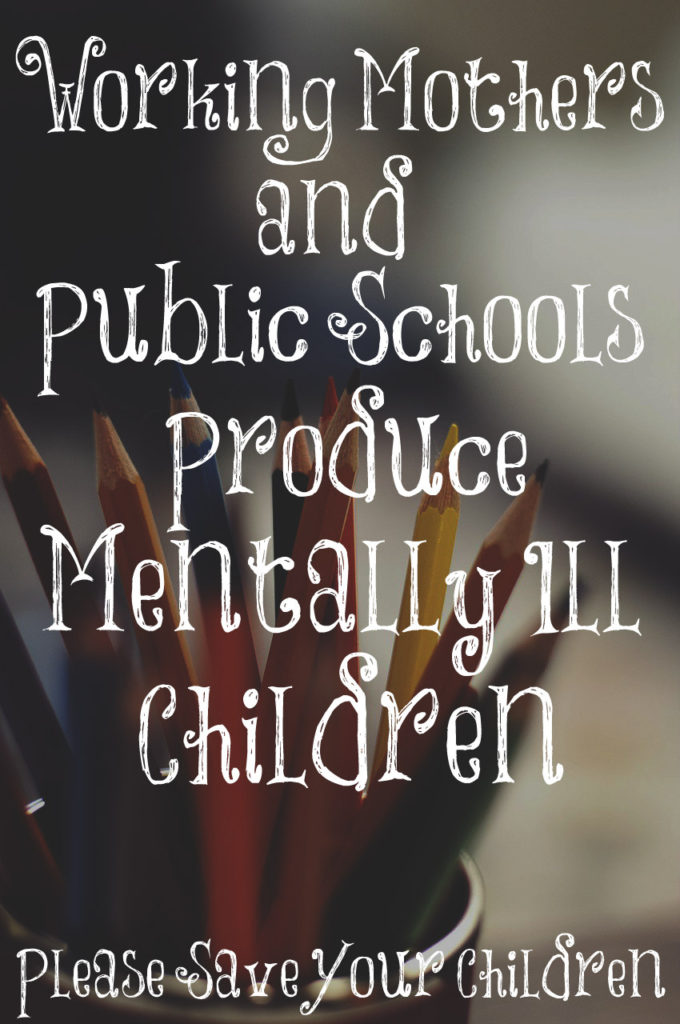 Years ago, I read the book Home By Choice by Dr. Brenda Hunter and she found that children who are home full time with their mothers have a much greater chance of growing up to be emotionally stable and secure. Children need and want their mothers all the time! This seems about right since God, our Creator, commands mothers to be keepers at home and have their children at home with them for very good reasons. All of His commands are for our good.
Daily Mail just came out with an article titled Pscychotherapist warns that working mothers are producing mentally ill children – and claims the problem is at an epidemic level. "'Our society tells women go back to work, do what you want, they'll be okay,' she explained. 'But they're not OKAY. 'I was seeing it in my parent guidance practice. I was actually seeing an epidemic level of mental disorders in very young children who were being diagnosed and medicated at an earlier and earlier age. 'I started looking at the research that backed up what I was seeing in my practice which is that the absence of mothers on a daily basis in children's lives was impacting their mental health.
'"I still say daycare is my least favorite option,' she said. 'You're taking a very young baby and exposing them to a great deal of stimulation and a great deal of fear. 'When you take them out of their immediate environment and put them in a group with a lot of stimulation and a lot of people that's not the natural environment for babies.'"
The natural environment for babies and children is at home with their mothers. This is where they belong and what is crucial for their long-term mental, emotional, physical, and spiritual health.
Rates of suicide and suicidal thoughts are climbing drastically among the youth in this country. Most children are no longer being raised by their own mothers full time. They aren't being protected by their mothers from all of the evil in culture, including the evil in the schools. Children are hearing, seeing, and experiencing things that they should be protected from. Their childhoods and innocence have been stolen from them and many are products of divorced parents. We're reaping the rotten fruit that we've sown as a nation.
The Federalist just came out with an article titled 13 Ways Public Schools Incubate Mental Instability in Kids. "The correlation between public school environments and the deteriorating mental health of children has been intensifying for decades. We ought to consider how these settings serve as incubators for the social alienation that can fuel such horrors.
"First, consider how common it is for a public high school today to house thousands of teenagers for most of their waking hours for four solid years. (More than 3,000 students attend the Florida school where the most recent shooting took place.) During their time in that maze, kids learn to 'socialize,' basically by finding their place in a school's hierarchy of cliques.
"Dr. Peter Gray at Boston College has studied in depth the harmful effects of mass schooling on children's mental health. Gray makes the point that school is simply an abnormal setting for children. But instead of admitting that, our culture prefers to say that the children are abnormal for squirming. In short, school is a prison that actually causes trauma in children.
"This sort of pecking order dynamic tends to breed resentment, status anxiety, and social dysfunction. Combine that with the toxic effects of social media and family breakdown, and you've got a deadly brew. Public schooling is increasingly unhealthy for kids' emotional stability."
Youth are taking more drugs and trying to escape reality. They are lost and confused. They have no moral compass. They don't know right from wrong. Too many children are being put on drugs at young ages instead of being home with their mothers and being disciplined and trained by them. They aren't being loved and nurtured by the one person God gave to do this and they are suffering.
I can tell you one thing that is for sure – God never ordained mothers to work away from their children all day long nor did He ordain public schooling where children are being taught all of their childhood by a godless government. These were invented by our culture and we know who the prince of the power of the air is and his evil intent for our children. God commands that women be keepers at home and raise their children in the nurture and the admonition of the Lord while training them in the way they should go. The Devil is the one who wants women out of the home and he wants our children on the train that is headed for hell.
Rescue your children, mothers. Go home full time and homeschool your precious children. God wants a family; a family of godly offspring who grows up to be adults who love and obey Him. They won't learn about this at preschool or public schools. It's the ministry the Lord has given to you when you were blessed with children. Children are the most innocent among us and must be protected from the enemy of their souls. You were the one God gave to protect them.
Many women will be repulsed by these articles from the Daily Mail and The Federalist because they want to do what they want to do. They don't want anyone telling them what to do even if it's best for their children. Speak the truth in love to whoever will listen to you, women. There's a tragic crisis among children and you have the answers. "On a societal level we need to recognize mothers work is valuable work. We emphasize material success and professional achievement, but there is no more valuable or more important work." Amen.
Finally, as our preacher taught yesterday – God always pays for what He orders. He has ordered young women to be keepers at home and wants them loving their children enough to raise them in the nurture and the admonition of Him. Trust your Great Provider to pay and provide a way to accomplish what He commands of you.
He maketh the barren woman to keep house, and to be a joyful mother of children. Praise ye the LORD.
Psalm 113:9
***There's a HomeMaker gathering on March 8th to speak out against the feminists agenda and for the value of mothers-at-home: "Fletcher said that while the left and feminists are promoting daycare and government schools, mothers hold the key to creating a healthy and prosperous society.
"What children need more than anything isn't the best tax-payer funded daycare, it's the love of their mother," Fletcher said. "Strong family connections create more stable, well-rounded kids who become good husbands, fathers, wives, and mothers and contributing participants in building stronger communities."