The Jezebels Among Us
The Jezebels Among Us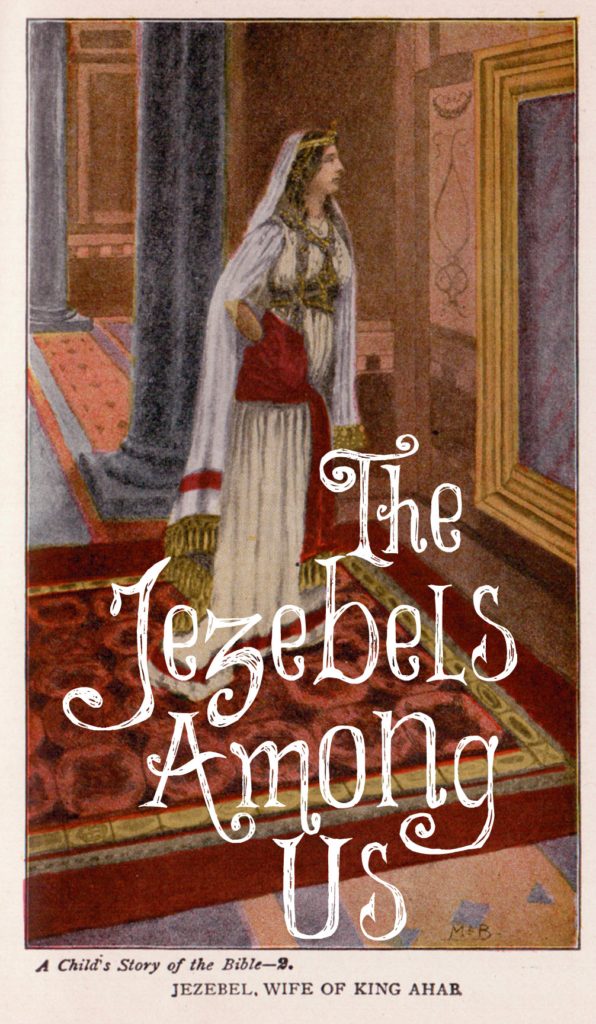 There are many women preachers/teachers/authors out there these days who have "special revelations" from God. God spoke to them, they claim, as if God's Word isn't enough for them. Many women love these women preachers, attend their conferences, and believe these Jezebels must be so godly because they "hear from God" even though most of the women in the audience never do, thus they feel inferior and less godly. These Jezebels falsely believe that the words they heard from God are for others, so they preach/teach and even write books about Jesus talking through them. Beware, women!
Hebrews 1:1, 2 is clear that God in times past spoke through prophets but in these last days, He has spoken through Jesus Christ and His Word. "God, who at sundry times and in divers manners spake in time past unto the fathers by the prophets, Hath in these last days spoken unto us by his Son, whom he hath appointed heir of all things, by whom also he made the worlds." Everything we need for life and godliness are in His Word, and we are warned at the end of Revelation about anyone adding to or subtracting from His Word (Revelation 22:18, 19).
Revelation 2:20 speaks about this woman Jezebel, so I thought I would look up in the commentaries to see what godly men who studied the Word had to say about her. "If the above view be right, the leader of the exorcists is a woman—regarded by her followers as a prophetess, as one with a real message from God; but viewed by the Lord of the churches as a very Jezebel, teaching and seducing the servants of God. For letting her alone, for being timid, paying too much deference to her spiritual pretensions, for failing to see and to show that the so-called 'deep things' of these teachers were depths of Satan, the chief minister is rebuked." (Ellicot's Commentary)
This description sounds a whole lot like a lot of the women preachers today that we are told to not have anything to do with. God doesn't want women preaching and teaching the Word of God. He wants men to do this. He gave this ministry to men, not to women, and this is why the elders of the churches are to be men, "the husband of one wife." God is clear what He wants women to teach other women; the ways of biblical womanhood, and these Jezebels never teach about the principles of Titus 2:3-5 as far as I can see or have heard.
"Professing Christians are fawning over every heretic, heresy, heretical book, and blasphemous movie. They will race off to conferences with a speaker lineup that reads like a 'Who's Who?' in false 'ministers of righteousness.'  The truth floats on by them, but they eagerly reach out, grab, and gush over every falsehood. But they will not rejoice over or promote truth. Further, they refuse to invest any time and energy defending anyone who presents truth when they are under attack."
Banes' Notes on the Bible has this to say about Jezebels: "The kind of character, therefore, which would be designated by the term as used here, would be that of a woman who was artful and persuasive in her manner; who was capable of exerting a wide influence over others; who had talents of a high order; who was a thorough advocate of error; who was unscrupulous in the means which she employed for accomplishing her ends; and the tendency of whose influence was to lead the people into the abominable practices of idolatry."
They act so spiritual. They stand up in front of churches behind pulpits. They are loud and commanding in the way they speak. They make up new words that sound spiritual but are not biblical. They leave their homes, husbands, and children to "minister" to women. You won't hear them teaching about submitting to and obeying their husbands or being keepers at home. They won't exhort families and churches to care for widows, so they can be home with their children. They will never mention that women are to be silent in the churches, and if women have questions, they are to ask their husbands at home. Forget about the exhortation that women are not to teach nor be in authority over men. No, these important topics for women will most likely never be heard from these Jezebels, and we wonder why the Church is so weak and ineffective today.
Then when older women teach younger women all of these principles of biblical womanhood and give Scripture to back up what they teach, they are called names, told how horrible they are, and ridiculed by the many who reject God's truths. C.H. Fisher wrote: "But they reject God's messengers. They call them mean-spirited, hateful, ignorant, self-righteous, and even diabolical, for the sole reason that His messengers pierce their fickle and carnal hearts with anointed truth. When they speak harsh rebukes to God's messengers, they are speaking against Him. Condemning God's messengers is as condemning the message and the One who sent it. It is as rejecting His righteous authority. There will be judgment for that great sin. The reason is because it not only prevents the individuals who reject it from entering the kingdom of heaven, it deceives and prevents other ones from entering."
Let your women keep silence in the churches: for it is not permitted unto them to speak; but they are commanded to be under obedience, as also saith the law.
1 Corinthians 14:34