This Family Pursues Holy Living
This Family Pursues Holy Living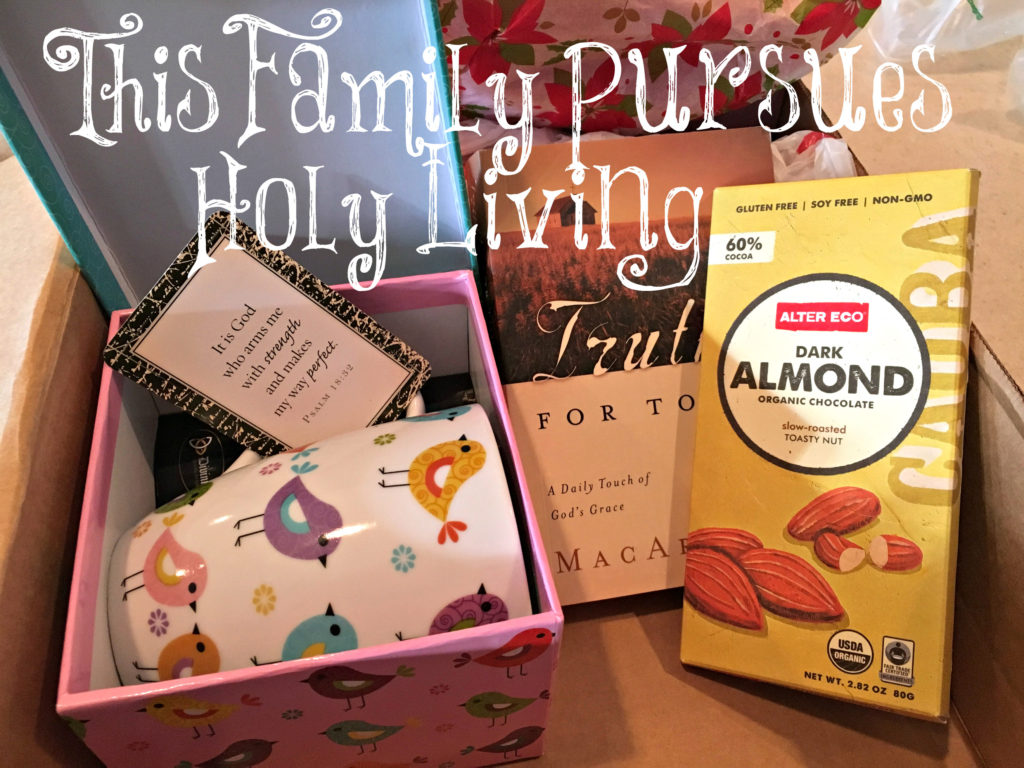 Last week, I received this package filled with wonderful gifts from a godly woman who has read my blog for six months. Along with the gifts, she sent me a long letter that I want to share with you (with her permission, of course.)
I was 25 when the Lord awakened me and saved my wretched soul from His wrath. I live every day in complete gratitude that He would save someone like me. I will never understand, but am so utterly thankful He did!
My parents divorced when I was nine going on ten. It definitely left some scares but I moved on and lived with my mom who raised me with my stepdad (our next door neighbor that my mom had an affair with). I grew up in a nice environment, but it was completely self-centered. My mom taught me to get an education, career, buy a home and not to settle down with anyone; you need to wait that out and live with him first to see if it will work out. So I did all those things.
There was a lady at my work who professed to be a Christian and would talk to me about dating and what the Bible says about relationships. She suggested a book (I Kissed Dating Goodbye) so I went home and began reading it and there it was: the Scripture passage Matthew 5:27, 28. "Ye have heard that it was said by them of old time, Thou shalt not commit adultery: But I say unto you, That whosoever looketh on a woman to lust after her hath committed adultery with her already in his heart." I believe the Lord used this to save my soul!
I went and got out a Bible a guy at work had given me and read it over and over and just wept and pondered in my mind and heart that I was headed straight for hell, because I was thinking I was a good person! I was even confessing I was a Christian but was living with my boyfriend in an adulterous relationship. I went to him and showed him what God's Word said about what we were doing. He didn't receive it well and yelled, "You are taking this way too serious. God doesn't mean that. It is what you see it as!"
I am certain my conscience was bearing witness to the Scripture and it was clear. I could not get enough of God's Word! I told my boyfriend to move out since we couldn't live this way. I loved my Lord! The hard part was that I loved this man and saw a future with him but he moved out, lived with his mom, and continued his life without me. I sold the house we had lived in for two years together and lived with my dad and stepmom while focusing on my devotion to the Lord.
I started going to church where my dad was attending; a very easy-believism/seeker church.  I continued on for about six months, growing in my faith, and praying for the Lord to show my boyfriend that we needed to be married and to work all of this mess out. What I should have been praying for was that the Lord would save him. In my naivety, I thought he was saved. However, the Lord showed me my error when I got a phone call from him. He wanted to share something with me in person. So I agreed, and he came to my dad's house.
We talked for a long time about what God had revealed to him about his wicked adulteress heart. He came to me in complete humility asking my forgiveness and that he was ready to live a changed life for the Lord. To my complete surprise, he got down on one knee and asked me for my hand in marriage. We were married five months later.
God has been so faithful to our blessed marriage. He has grown our faith tremendously and is continuing to do so. John MacArthur's commentary was in my dad's library so we listened to years of sound doctrine that delivered us from false teachings and shepherded our hungry hearts for truth! God is still using him in our lives today. I am so thankful for godly influential men and women feeding us younger sheep discernment and to persevere in truth!
God has graciously given us five children to love and point to Him. We still cannot believe how He saved us and brought us together (we met at a skating rink). Oh and that He saved us before marriage and had children! My children range in age from two to eleven. I have the joy of staying home and raising/teaching them at home all truly for God's glory. We don't do television (well, I should say cable; we pick and choose video for entertainment); we do have a couple laptops, one for the business and the other for homeschool. My husband has a black berry, and thanks to my mother-in-law to keep us up to date (sort of) bought me an LG smartphone; which I am still trying to figure out how to use – ha ha ha!
We love our landline! I do not have call waiting! I am not really on Facebook. I set up something a few years ago for my husband's business but never stuck with it to know how to do anything on it, except what others tell me. (Lori: I told her how to get to The Transformed Wife page!) I don't know what twitter is (it's probably something else by now); Instagram looks kind of neat, but don't do that. One really nice feature I like on my phone is the GPS; I don't have to break the map out. I think the Kindle is a great idea for ones who love to read while traveling. I love to read books, but there is something I like about turning pages and holding a book too. So much wonderful technology can be used for the good, I am convinced of that. However, so much of it seems to be destructive to our depraved culture we live in. My mom tells me I should have been born in the pioneer days and I have another friend who calls me "Andy Griffiths's daughter." 🙂
Country is in my roots, real country music too: I do find myself romanticizing the past or what it would be like to live back then. I live in a very quaint little house in the country with three and a half acres, soon to have chickens and a thriving garden. We have a lot of time outside with our children and our Golden Retriever. There is always laughter, running, swinging, splitting wood, cutting grass, working in the garage, riding bicycles, and just loving the great outdoors God has given us to enjoy! Inside, there is always baking going on with healthy organic foods, sewing projects, cleaning, teaching, learning, training, lovingly disciplining, etc. My heart is troubled and silenced with the amount of women who put education up on HIGH! I stand there listening and not knowing what to say. I usually remain silent. We are living our lives in a way that Scriptures defines as holy living. We are to encourage our daughters to be keepers at home. Why is it not honorable to tell your children to want and desire to be married and bear children?
I have been following your writings for the last six months or so. My dear friend told me about you. I am always sharing with her how we are always learning, she suggested that I take the time to read and be encourage from your blog "Always Learning." So I did. I am not into blogging or have a blog. In fact, you are it! So with the best of my ability, I allow very little computer time. It is usually in the evening or at a break after lunch. I can tell you nothing has spurred me on more since Elisabeth Elliott, Martha Peace, Stuart Scott, Paul Tripp, John MacArthur's teaching on women's roles as your writing has. I also love a lot of the older writing from John Abbot (Mother at Home), J.C. Ryle, A.W. Pink, and Spurgeon.
I know it's God providence that led me to your blog. I have been deeply drawn to you and your teachings of the Scriptures! The Lord is allowing you to minister to me in a way no other godly woman has. You have drawn me closer to the Lord in my role as a wife and mother than any other woman. I have prayed for many years that I would have a godly Titus 2 example in my life. Well, sadly to say there hasn't been one. Where are they!? The older godly women are into their desires (careers, being busy with countless church activities, and promoting higher education). Needless to say, I was distraught and discourage.
We are living our lives in a way that Scriptures defines as Holy living. Mrs. Alexander, I have to say I covet the desire for me to be your daughter (big smile)! You have helped me in so many facets I can't begin to type them all. I finished reading "The Power of a Transformed Wife." It has challenged me like no other book. You are spot on with Scripture and it is truly what younger women need to hear. Every church should be filled with many godly women doing what you are doing. I will continue to glean wisdom and encouragement through your writings (The Transformed Wife Blog) and be so thankful the Lord has allowed me to get to know you in a new fashioned way – the Internet!
Blessed is the man that walketh not in the counsel of the ungodly, nor standeth in the way of sinners, nor sitteth in the seat of the scornful. But his delight is in the law of the LORD; and in his law doth he meditate day and night. And he shall be like a tree planted by the rivers of water, that bringeth forth his fruit in his season; his leaf also shall not wither; and whatsoever he doeth shall prosper.
Psalm 1:1-3