Why Does Not Being a Keeper at Home Blaspheme God's Word?
Why Does Not Being a Keeper at Home Blaspheme God's Word?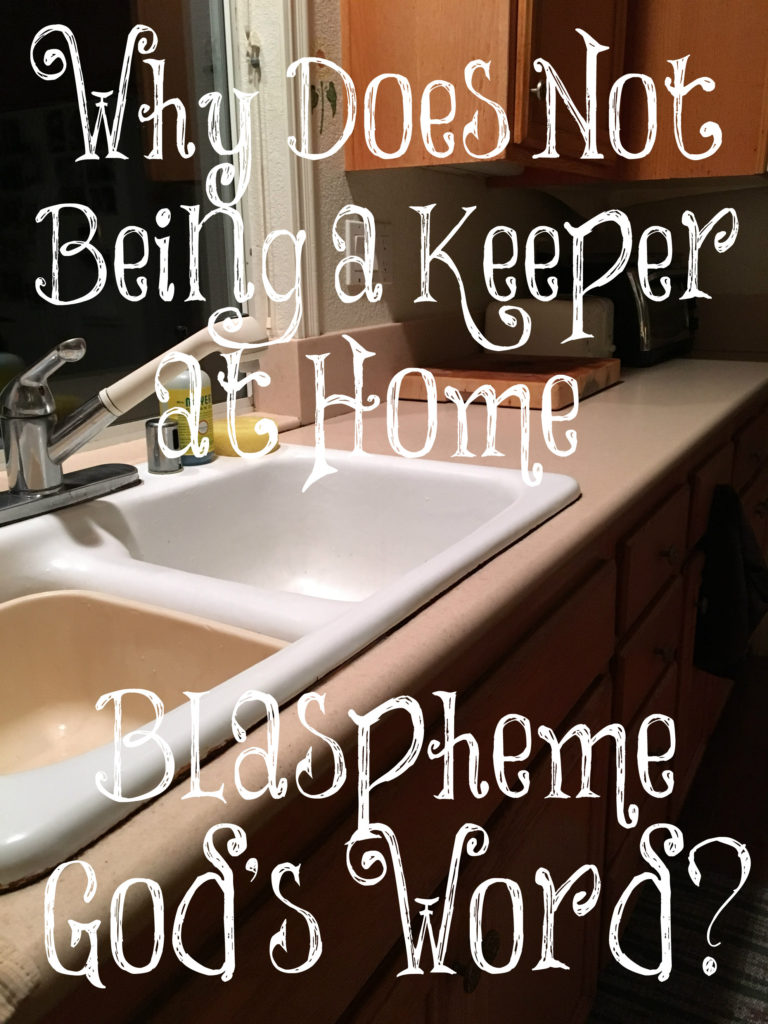 Younger women are commanded to be "keepers at home" in Titus 2:5 so they won't "blaspheme the Word of God." Many times when I am writing a post such as this one, I will go to biblehub.com and read all of the commentaries of old on the verse that I am studying. I love to learn from these godly, old men who weren't influenced by feminism and the age in which we live. So I am going to pull out some of their words of wisdom for this important post since if you love Jesus Christ, you don't want to do anything to blaspheme (speak evil against) His Word. We want to live lives that bring glory to the Lord and will draw others towards Him by the way we live our lives instead of away because of our hypocrisy (not obeying the Word).
"As 'guardians of the house,' as the Greek expresses. The oldest manuscripts read, 'Workers at home': active in household duties." The opposite of this (blaspheme the Word) would be to not be home often due to having a job outside of the home or running here and there so a woman is not guarding what is coming into her home, what her children are reading, seeing, and hearing, and what influences are affecting them. This is our God-ordained role, women. We are to guard our homes from evil influences and work hard in the home, not allowing it to become a pigsty.
"House-wives, not spending their time in gadding abroad, but in looking to the affairs of their own families." Women today can be described clearly as blaspheming the Word of God by the discontent they show when being home so they get involved in women's Bible studies, retreats, shopping, etc. and don't look over the affairs of their home and families. Few have time to fix nourishing and healthy foods for their families, spend time training their children towards godliness, and making sure the home is clean and tidy. Learn to enjoy being home and content where the Lord wants you to be.
"This is said in opposition to what women are prone unto. It is reckoned among the properties of women, by the Jews, that they are 'gadders abroad.'" It breaks my heart when I hear of women not "feeling fulfilled" at home training, caring, and disciplining their children so they go out and get a job so others raise their children. Yes, getting a job outside of the home away from the children is gadding abroad. It is blaspheming the Word of God. How can a woman expect to raise godly offspring if she is not around to raise and teach her children the ways of the Lord? We are called to continually speak to and train our children which way they are supposed to go.
"For there is nothing more beautiful for a woman, than to abide in the corner of her house; for so it is written, Psalm 45:13 'the king's daughter is all glorious within'." Feminism has taken the feminine out of women. A woman at home cooking, cleaning, and caring for her children is feminine and beautiful. There's nothing with more feminine beauty than a mother with her children in contrast to a woman in a business suit with a briefcase. Feminism blasphemes God's Word and femininity brings glory to Him.
"And this they say is what is meant by the woman's being an helpmeet for man, that while he is abroad about his business, she is 'sitting at home' and keeping his house; and this they observe is the glory and honour of the woman." When you are out and about and not caring for your home and family, you are not bringing glory to your husband because the state of your home and the behavior of your children are a reflection not only of the Lord but of your husband. Raising children is time consuming and requires a full-time mother at home. Be this woman.
"The mistress of the house is to add to her thrift, energy, and strict discipline, benign, gracious, heartily kind demeanor." A woman blasphemes the Word by spending too much money, being lazy in her home and seeking her pleasures instead of the Lord's, being selfish, and giving into her emotions and feelings. Be wise with the money your husband makes. Live contentedly within his income. Discipline yourself for the purposes of godliness remembering that His Spirit works mightily within you. Be generous with your time and money and be kind. Stop yelling at your children and train them instead; for this is good.
"Stayers at home." Be a stayer at home. Home is where God has placed you. Home is where you are a help meet to your precious husband and children. Make your home a sanctuary for your family. Put a lot less miles on your car and more miles on your feet and hands. Work hard at home and bring the Lord glory as well as your husband. Make their lives as good as you can by disciplining your flesh and learning to be a living sacrifice; for this pleases the Lord.
What will it profit you if you gain name recognition, a career, make a lot of money, own a big home, but lose your children's souls?
For what shall it profit a man, if he shall gain the whole world, and lose his own soul?
Mark 8:36