Do You Cause Evil to Be Spoken About God's Word?
Do You Cause Evil to Be Spoken About God's Word?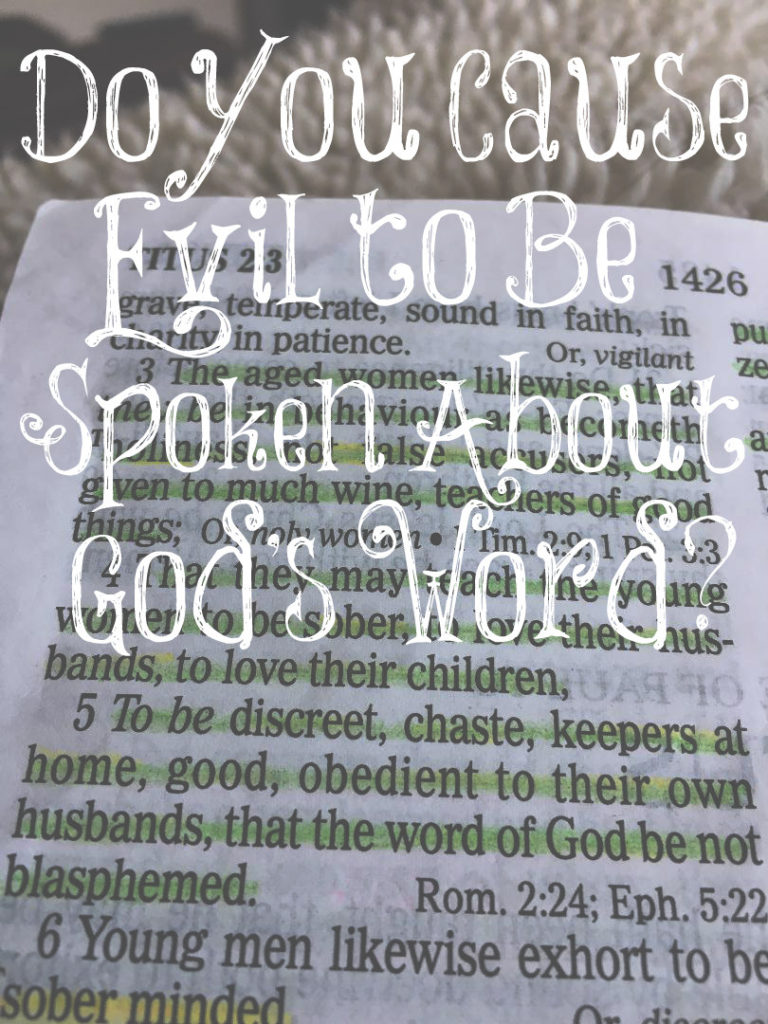 Christians don't like to talk much about blaspheming God's word. In fact, I have never heard a sermon on this topic, have you? But God is clear in His Word that there are ways that we blaspheme His Word (speak evil of God's Word). One way we are told is if young women are not keepers at home. "That they may teach the young women to be…keepers at home…that the word of God be not blasphemed" (Titus 2:4, 5).
In Debi Pearl's book, she gave one of her own life illustrations on what this meant. She was dropping one of her daughter's off to be watched by someone else but there was this very suspicious man there so she quickly decided not to leave her daughter there. Many awful things happen to little children when they are away from their mothers. This is one way women who aren't keepers at home blaspheme the word of God. God created mothers to watch over and protect their children. And how can they raise godly offspring if they aren't the ones raising them full time?
I asked the women in the chat room how women not being keepers at home could blaspheme God's Word and here are some of their answers.
 "It blasphemes the word of God in that it has potential to promote abortion. Many women blame their abortion on having to 'pursue a degree or career' as if motherhood is a trivial matter."
 "The attitude of entitlement that comes from working out of the home: that the money is yours, that you deserve or don't deserve certain things, that the husband do his share of housework because you both work outside the home, that your job is just as important as his, at least you are using your education unlike those women who stay at home, etc."
"In our extended family, the working mom takes on a dominant position over her husband. There is no submission to the husband. In order to keep the family 'happy,' he lets her!"
 "It blasphemes God's Word because it is a denial of the truth of what God has commanded. It's believing Satan's lie that 'you surely won't die,' but couched in different phrases: 'You surely can work outside the home.' 'You surely can chase your education/career aspirations.' 'You surely can let someone else watch/educate your children.' 'You surely can demand equal rights with men,' etc. It is blasphemous because it is a filtering of God's Word and His commands through the lens of modern culture instead of filtering the culture and its ideas through the lens of Scripture. It is making gods of ourselves because we think we know better than God, the Creator, who fashioned humans and familial and social dynamics and knows under what conditions they work best. It is a refusal to live the crucified life for Jesus and yet wanting to claim to be a follower of Him."
That they may teach the young women to be…keepers at home…that the word of God be not blasphemed.
Titus 2:4, 5
*Here is a more in depth post on this topic called Why Does Not Being a Keeper at Home Blaspheme God's Word that I wrote a year ago in which I used commentaries to help me write it.