Women Preachers are "Deeply Scriptural"?
Women Preachers are "Deeply Scriptural"?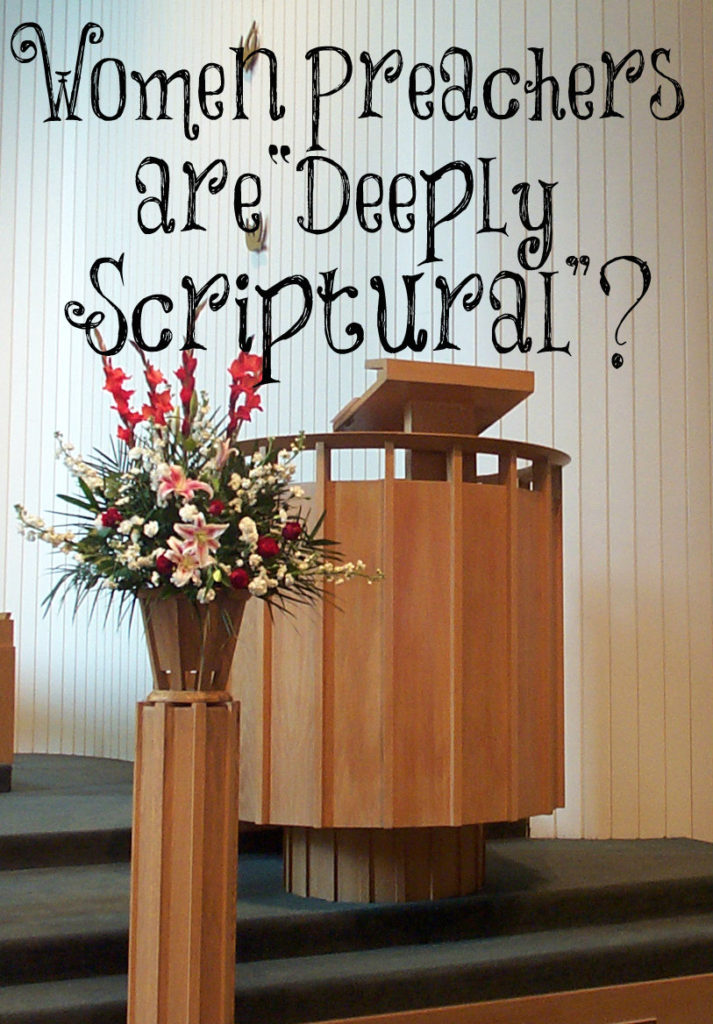 Yes, according to Halee Gray Scott, a researcher focused on evangelical women in leadership, women being in leadership positions in the church "is a model of leadership that is deeply scriptural, built not on personality nor an individual's personal charisma, but on partnership," she said. "It is a model that reflects the fullness of humankind, both male and female." Thus, Willow Creek Church has chosen a man and woman to be their co-ed pastors.
Is it deeply scriptural?  Let the woman learn in silence with all subjection. But I suffer not a woman to teach, nor to usurp authority over the man, but to be in silence (1 Timothy 2:11, 12). Let your women keep silence in the churches: for it is not permitted unto them to speak; but they are commanded to be under obedience as also saith the law. And if they will learn any thing, let them ask their husbands at home: for it is a shame for women to speak in the church (1 Corinthians 14:34, 35). A qualification for an elder or deacon in the churches is to be the "husband of one wife." No, it's NOT deeply scriptural. It's clearly unscriptural and against God's will for churches.
Steve Carter, the new male pastor, is quoted in a book he wrote, "My advice for those who want to live an invitational life is to show up with expectancy, with one ear attuned to heaven, so that when God whispers you'll be ready to respond. God's heartbeat is for humanity and He is inviting us to be ministers of reconciliation. He has given us a story of reconciliation and we are His ambassadors as if God was making his appeal through us. He wants to use you. When the spirit whispers, please say yes!"
This is dangerous teaching, my sisters in Christ, and it's becoming all too common among female and male preachers/teachers and books like Jesus Calling. Everything we need for life and godliness are in God's perfect LIVING Word. For the word of God is quick, and powerful, and sharper than any twoedged sword, piercing even to the dividing asunder of soul and spirit, and of the joints and marrow, and is a discerner of the thoughts and intents of the heart (Hebrews 4:12).
Dan DeWitt responds to the notion that God speaks or whispers to us personally apart from His Word: "You see, the truth is that God has spoken to you. He has preserved his Word. It has been written down by multiple authors across generations communicating one over arching story, providing you with an external reference point to know what God has to say to you today.
'For no prophecy was ever produced by the will of man,' the Apostle Peter wrote, 'but men spoke from God as they were carried along by the Holy Spirit' (2 Peter 1:21). Instead of a subjective experience where God 'speaks' to you, you have the objective words of God, passed down through the ages, affirmed by the church, and applied by the Spirit."
According to the Christianity Today article, "About a decade ago, the booming Chicago-area megachurch (Willow Creek) pivoted from what had been deemed a 'seeker sensitive' approach' to explicitly focus more on Christian growth and discipleship among its members." On the contrary, they've pivoted to a lukewarm, non-biblical church as stated in Revelation 3:15, 16.
I have a wonderful study for those of you who are interested. Read slowly through Psalm 119 and list all the things that this chapter has to say about God's Word and how we are to relate to it. Verse 1: Blessed are the undefiled in the way, who walk in the law of the LORD. Verse 2: Blessed are they that keep His testimonies. Verse 3: They walk in His ways. Verse 4: Thou hast commanded us to keep thy precepts diligently. Verse 5: O that my ways were directed to keep thy statutes. These are just the first five verses 176 verses!
Every verse explains the importance of God's Word. His will for us is to walk in obedience to what He has clearly commanded to us and then rest in Him. We don't twist the Word of God to make it say what we want it to say. We don't hear a "new and improved" word from the Lord. No, our delight is in His Word.
God, who at sundry times and in divers manners spake in time past unto the fathers by the prophets, Hath in these last days spoken unto us by his Son, whom he hath appointed heir of all things, by whom also he made the worlds.
Hebrews 1:1, 2