Women's Trajectory Toward Worldly Success Rather Than Being a Wife and Mother
Women's Trajectory Toward Worldly Success Rather Than Being a Wife and Mother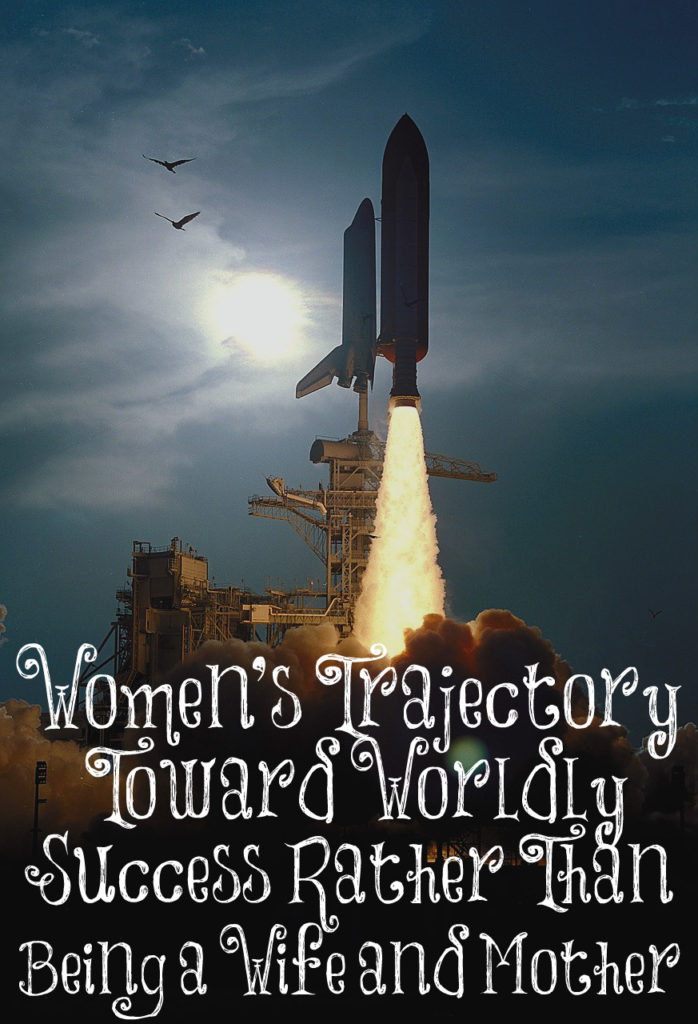 Ever since I was a young girl, all I ever wanted to be was a wife and mother. Having a career held no appeal to me. I wanted to find a husband so I worked towards finding one! I even pursued guys I found attractive during high school and college. No, I didn't call them or ask them out on dates. I let them know I was interested by going out of my way to be kind to them and hoped they noticed me. Some did and some didn't, but I knew I was going to do everything in my power to attract a husband since this was my greatest desire in life and pray a lot in the meantime.
A Christian mother wrote and said that one of her daughters fears getting married and having children. Her daughter wants to become a nurse or doctor and the parents are encouraging her in this direction. Sadly, this daughter has been influenced by the feminist culture we live in. What is there to fear in being married and having children? This is God's will for most young women.
In Lisa Anderson's book, The Dating Manifesto: A Drama-Free Plan For Pursuing Marriage with a Purpose, Lisa wrote the following:
"Sadly, as I immersed myself in girl power at school, I received little at church and beyond to counter it. Most of the well-meaning couples in my parent's circle saw no reason to question my trajectory toward worldly success; many of them outright supported it. I was told… to focus on my education and career. Here are a few of the mantras I commonly received–see if any of them sound familiar:
'Make sure you can support yourself; it's a tough world out there!'
'You're so smart; you don't want to waste your intelligence [implied: by getting married too soon].'
'We're expecting big things from you.'
'You have your whole life ahead of you–have fun while you can!'
'Relax; marriage will happen when it happens.'
'I wish I'd had all the opportunities you have.'
"…my mom finished college, but marriage was a next step. It was always a priority. It was talked about, planned for, and expected. She didn't mess around when she spotted my dad; she got busy.
Lisa, who is still single at 46 years old, was asked what she would tell her 28 year old self about dating which I believe should have been told to her 18 year old self:
"I'd say, 'Dating takes effort for both men and women.' Dating was hardly on my radar in my 20s. I was too busy chasing a career and thinking I was too awesome to need a man. I didn't make the effort to get to know men. I don't remember ever saying I wanted to be married. I turned dates down because I found some miniscule flaw in the guys in question. And then I wondered why I was still single at 30. God puts people in our path for a reason. Many of them are probably good marriage candidates. But when we give all our attention elsewhere, we cheat ourselves out of a healthy pursuit of what is for most of us a God-given life goal. Marriage is a good thing, and biblical, intentional dating is a great way to get there. But it takes work. And that work should start earlier rather than later. Learn from my mistakes on that one, folks."
Many women today, including Christian women, are pursuing higher education and careers and aren't even considering getting married and having children since they aren't being taught that this is something they should consider early rather than later. It's a rare young girl these days when asked what she wants to be when she grows up would answer, "a wife and mother." No, nowadays, this answer would be frowned upon and they would be asked, "What if you never get married?" or "What career choice do you want to pursue?" As if being a wife and mother weren't good things to desire or even pursue.
In order to want to get married and have children, young women must be willing to sacrifice their time, energy, and maybe even their gifts, and most young women don't seem to want to do these things. They also must learn to be a help meet to their husband and serve him by learning to have a meek and quiet spirit if they marry. They must learn to sacrifice their body, time, and energy to raise godly offspring which is difficult. Yes, marrying and bearing children requires a lot of sacrifice that many young women have no desire to do these days, sadly. (It's heartbreaking to me.) Instead, they would rather sacrifice their time, money, and energy for a career that may keep them from marrying and raising their children, if they do have children.
Yes, being a godly woman who wants to be a wife and mother is a good goal for young women to pursue, contrary to popular opinion, if their goal in life is to marry and have children but unfortunately, most young women have believed the feminist's lies and believe that having careers and pursuing worldly things are far superior.
I will therefore that the younger women marry, bear children, guide the house, give none occasion to the adversary to speak reproachfully.
1 Timothy 5:14