Watering Down Truth to Be Liked
Watering Down Truth to Be Liked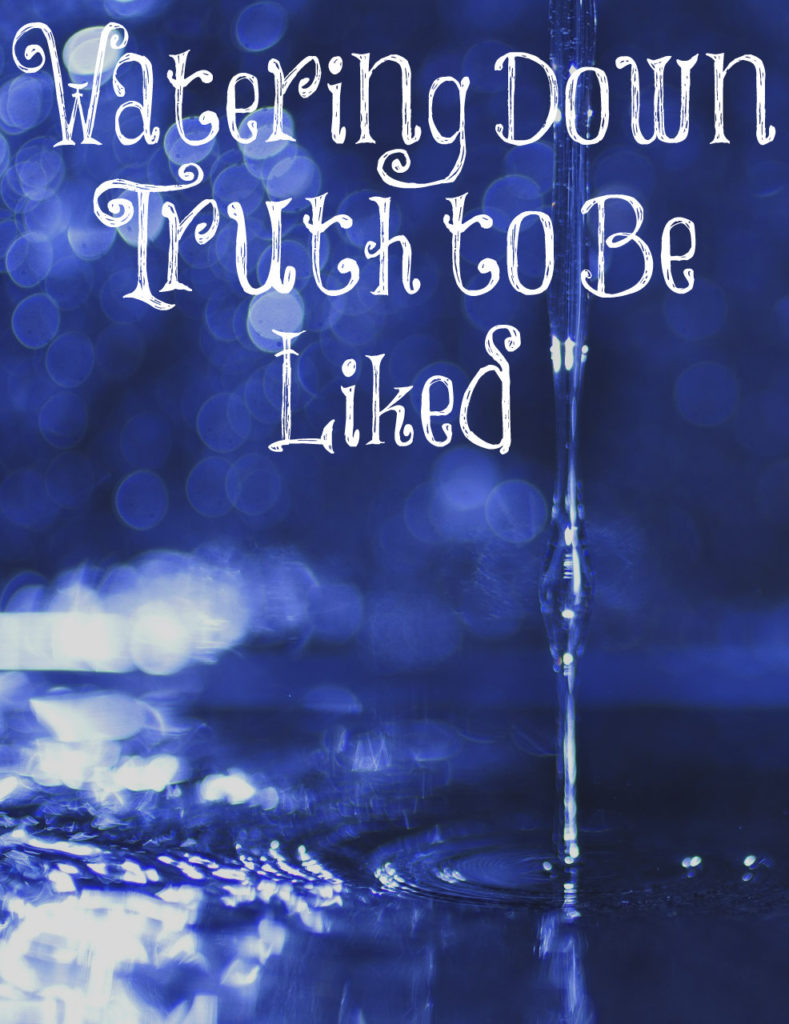 God has a good reason for all that He commands. He is good and we can trust Him. He commands that older women teach the younger women biblical womanhood for a good reason. I see younger women sharing some controversial posts with truth in them then begin backtracking when others who comment start to give them a hard time. They care much more about being liked than speaking truth.
The younger women fail to understand the importance of speaking even the hard truths and combating the lies of today. They are younger in their faith and experience and I don't blame them for wanting to be liked. It's difficult to speak the truth of God's word and be constantly slandered, argued with, and even hated. But "true Christianity will cost a man the favor of the world. He must be content to be thought ill of by man if he pleases God. He must count it no strange thing to be mocked, ridiculed, slandered, persecuted, and even hated" (J.C. Ryle). Our aim in life isn't to be well liked or popular and you can be assured that you won't if you share the truth of God's word.
Some young women shared critical but truthful reviews of a popular "Christian" author's book that was not biblical at all. Some of the young women who were commenting were saying how much they liked this book even though they didn't agree with it fully. The younger women who shared it would then respond by saying "Oh, yes, take what you like and spit out the rest" or "Yes, there probably are very good things she shares." NO! She is a false teacher and we are warned over and over again to not have anything to do with them. If they are teaching things opposed to the word of God, flee! Never water down what God clearly commands.
"Now I beseech you, brethren, mark them which cause divisions and offences contrary to the doctrine which ye have learned; and avoid them" (Romans 16:17). These truths are hard for younger women to write to their Facebook "friends." They don't want to offend anyone but truth will always offend those who don't want to hear it so we must not allow this to stop us from sharing truth. The older women do not seem so easily offended by those who hate them and the truth. They have developed more of a backbone from aging, wisdom, and experience which is how God intends.
It's extremely difficult even as an older woman to teach women the truths of biblical womanhood. There aren't many who will teach women to be "keepers at home" because of the backlash and strawmen arguments that are constantly used against them. When they do try to teach it, they will teach all of the exceptions so that almost everyone fits into the exceptions, therefore, few women are keepers at home. The same goes with submission. All of the exceptions given wipe out the clear commands of God for women to submit to their husbands in everything and be obedient to them. Instead of focusing upon the exceptions, let us be bold with the truth of God and allow it to convict and change women's hearts and minds. Watered down truth does nobody any good at all.
Beloved, believe not every spirit, but try the spirits whether they are of God: because many false prophets are gone out into the world.
1 John 4:1