Your Daughters Don't Have to Choose a Career
Your Daughters Don't Have to Choose a Career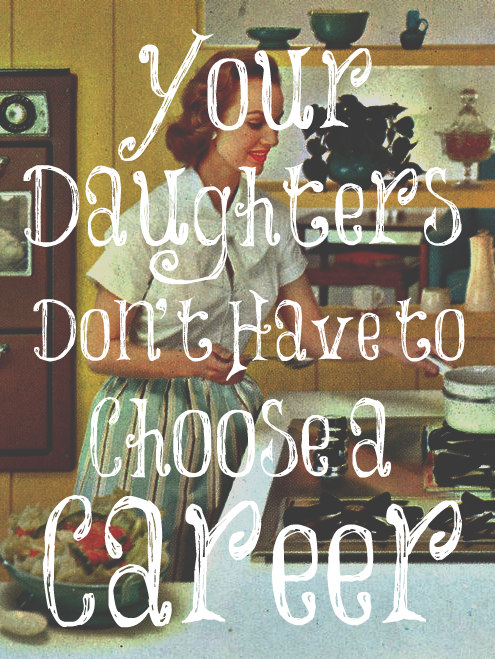 Whenever my viral post goes viral again, many of my more recent posts receive a lot of hits and comments as well. Unfortunately, vile and nasty comments are spewed all over my Facebook page, along with contentious and contrary ones (those who believe it's their duty to scold me for what I teach).
Thankfully, I have a small "army" of godly women helping me to ban, delete, and hide those types of comments. My husband, Ken, has also become an administrator of my Facebook page since he wants to help moderate during times like these. It gets overwhelming and this homemaking viral post seems to go viral fairly frequently. (I appreciate that he is involved and overseeing my ministry to women, too. He also mentors men who come my way seeking help in their marriages. He has a lot of wisdom!)
This is one of the posts that was receiving quite a bit of comments recently. (Yes, I know I spelled "tutor" wrong but at the time I wrote it, I was taking care of my three young and precious grandchildren and wasn't as careful as I normally would be but I do make mistakes!):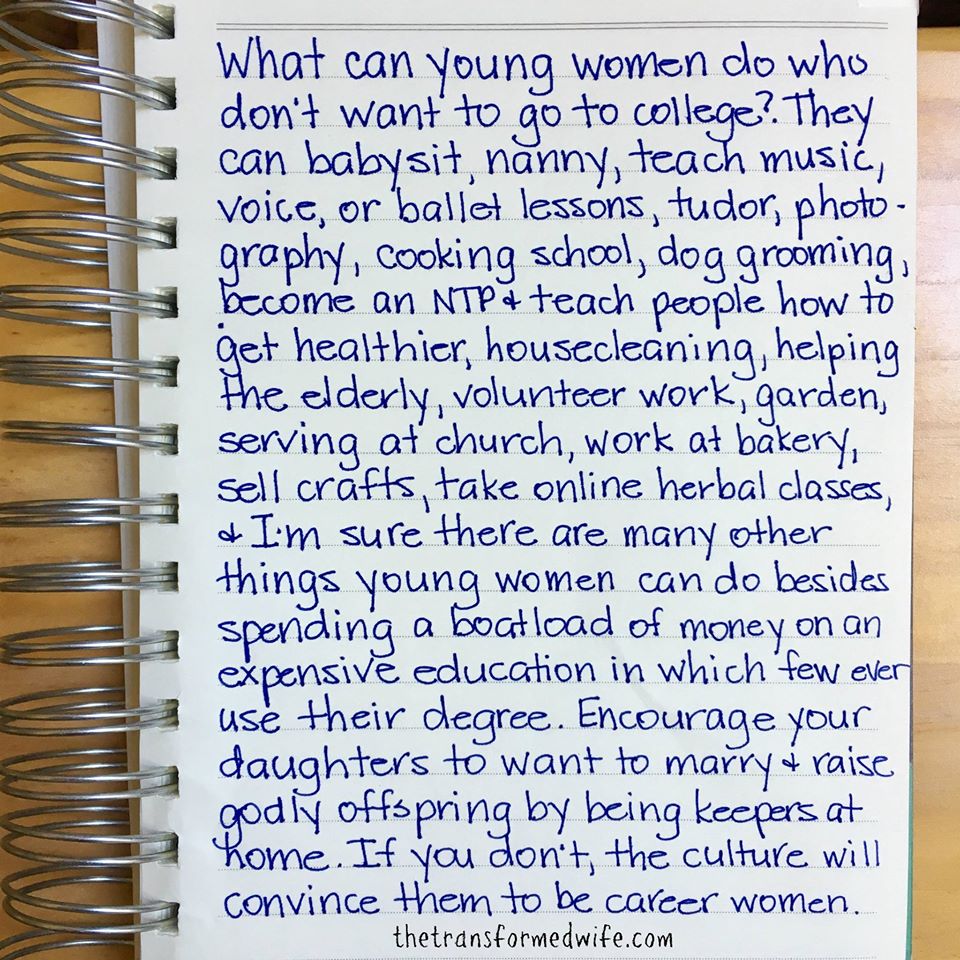 I noticed that Ken had responded to a few women who disliked this post and felt they needed to set me straight. I thought his responses were good enough for a post of their own!
Vicky: "I am a college educated (BSN, and an MBA, currently working on my PHD) female, wife, and mother! Telling young girls, that they are better off, not going to college, and just getting married and having children is WRONG! I have two girls, which both have gone or going to college, one is married and works in her degree field, with no children; doesn't want children and the other, doesn't want to consider marriage until, she is capable of standing on her own two feet. So, what you're saying is that I have raised my daughters, incorrectly?"
Ken Alexander: "Vicki, I am all about choice. Did you show your daughters a choice to not become a career woman and explain the sacrifices they are making when they choose to pursue a career? Everyone has a choice how they want to live their life, and you and your daughters have chosen your path. It's your life to live so live it as you think best… but also don't believe for an instant that many career women and their families would not have been better served by focusing on the relationships that give the most lasting value in life.
Jesus said, 'For what does it profit a man to gain the whole world and forfeit his soul?' (Mark 8:36). I think He would also say for today's world, 'What does it profit a woman to have a career, and the money and ego that goes with it, to lose out on the best life has to offer in family and marriage?' You have taught your daughters the world's way of doing things, but this world will pass by quickly and in the end, we all have to own how we have lived.
So let's be sure that our daughters know that they do not have to choose a career, but can throw themselves into marriage and family, often living happier and more fulfilling lives without the debt of college and grad school. Let's let God and His Word help them make this important decision. Our children are our greatest treasures, are they not?"
Kenndra: "Out of curiosity (again), are we going to pretend that women like Esther or Ruth did not exist in the Bible? Or are we only talking about the parts that fit this narrative?"
Ken Alexander: "Are not Esther and Ruth perfect examples of godly women who married and were well provided for by God and their husbands? They are a far better example of what is taught in this post than anything to do with being career women."
For my thoughts are not your thoughts, neither are your ways my ways, saith the LORD. For as the heavens are higher than the earth, so are my ways higher than your ways, and my thoughts than your thoughts.
Isaiah 55:8, 9