Do I Make Virginity an Idol?
Do I Make Virginity an Idol?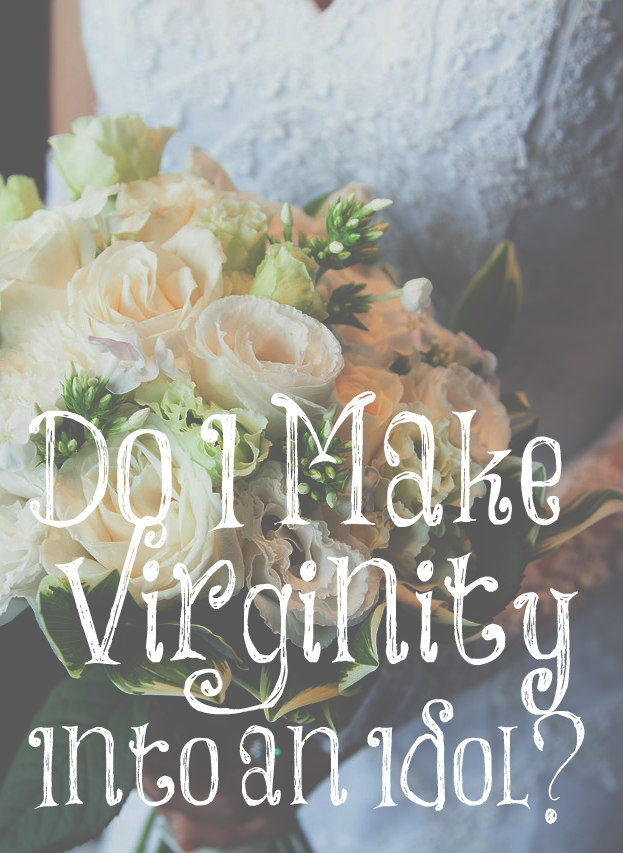 People accuse me of making an idol of virginity especially since my viral post. I am considered some type of nut case by unbelievers or a far-right legalistic by many Christians. They claim I didn't consider the widows, the sexually abused, or those who were promiscuous in their past. They fail to realize that God commands older women to teach young women to be "chaste" (Titus 2:3-5), so this is what I do.
I believe all of God's ways are for our good. God wouldn't have commanded us to "flee fornication" if it wasn't for a very good reason. Someone has to teach the young women about chastity before marriage. It seems few are doing so, thus most young Christians couples are living together and thinking it's completely acceptable. They falsely believe that one gets to know someone better by having sex with them, therefore, they must have sex before marriage. Sex clouds one's judgment, thus causing many to marry unwisely. They allow the worldly lies to cause them to disobey God.
 There's an article titled Why Sexual Morality May be Far More Important Than You Ever Thought. What were some of the author's conclusions after studying the health and downfall of nations?
"Increased sexual constraints, either pre or post-nuptial, always led to increased flourishing of a culture. Conversely, increased sexual freedom always led to the collapse of a culture three generations later.
"Surprisingly, the data revealed that the single most important correlation with the flourishing of a culture was whether pre-nuptial chastity was required or not. It had a very significant effect either way.
"The most powerful combination was pre-nuptial chastity coupled with 'absolute monogamy.' Rationalist cultures that retained this combination for at least three generations exceeded all other cultures in every area, including literature, art, science, furniture, architecture, engineering, and agriculture. Only three out of the eighty-six cultures studied ever attained this level.
"When strict prenuptial chastity was no longer the norm, absolute monogamy, deism, and rational thinking also disappeared within three generations.
"If total sexual freedom was embraced by a culture, that culture collapsed within three generations to the lowest state of flourishing — which Unwin describes as 'inert' and at a 'dead level of conception' and is characterized by people who have little interest in much else other than their own wants and needs. At this level, the culture is usually conquered or taken over by another culture with greater social energy.
"If there is a change in sexual constraints, either increased or decreased restraints, the full effect of that change is not realized until the third generation.
"Unwin found that when strict prenuptial chastity was abandoned, absolute monogamy, deism, and rational thinking disappeared within three generations of the change in sexual freedom.
"In direct contrast to rational thinking, a post-truth culture abandons 'shared objective standards for truth' and instead, stands on appeals to feelings and emotions, and what one wants to believe."
Our culture abandoned sexual morality in the 1960s, therefore, the third generation after this is upon us, and we can clearly see the destruction it has had upon our culture. I grieve for our culture. Most young couples don't even want to marry any longer. They just want to live together (sex with no commitment). Children are no longer wanted (abortion) and if they are born, they are often raised by strangers and then have to suffer through the divorce of their parents. Pornography and human trafficking are rampant.
We must be different and live our lives by the Truth found in God's Word, women, even when our culture is not. His Word is perfect, and acceptable, and perfect! Teach your children the value of remaining chaste until marriage. Teach them that being a virgin and chaste until marriage isn't just about not having intercourse. It begins with the thoughts and what they dwell upon. Tell them the importance of dwelling upon the lovely and the good. Explain that their actions will be born out of their thoughts, therefore, encourage them to guard their thoughts by taking them captive to the obedience of Christ.
They will listen to you and will likely obey you, especially if you have a good relationship with them and they are deeply loved by you. Children who are loved deeply, steeped in God's Word, and disciplined diligently, grow up to want to please their parents. When they leave home, they will want to obey God because they know that His commands protect them. If you don't teach them, culture will teach them the ways of wickedness. Don't allow culture to mold your children. You mold them!
Flee fornication. Every sin that a man doeth is without the body; but he that committeth fornication sinneth against his own body.
1 Corinthians 6:18