Founders of Feminism Had Reprobate Minds
Founders of Feminism Had Reprobate Minds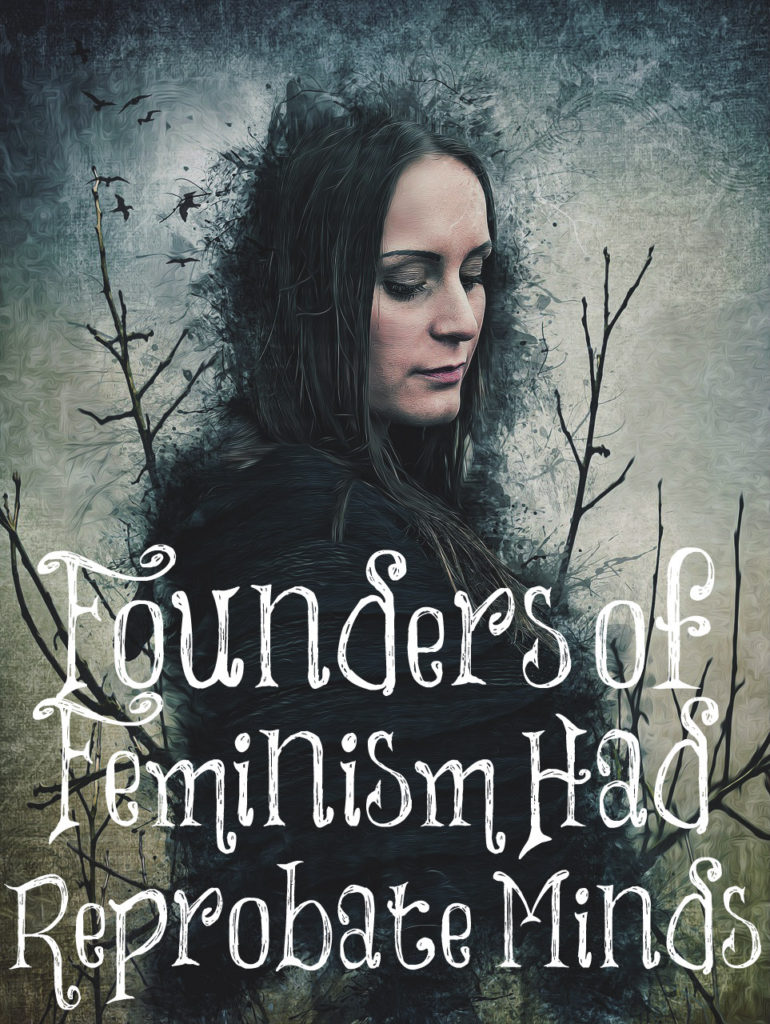 Christian women are floundering today. They have no idea what they are supposed to do with their lives? Should they work after having children or be home full time? But if they don't work outside of the home, they will probably get bored and won't make any money so they will feel useless. Oh, what should they do?
Mark Taspon did an interview with Mallory Millet who is the sister of Kate Millet. Kate is one of the founders of the second wave of feminism. Mallory admits that Kate was mentally ill and was a terror to live with. "I was with them at that table as they founded the Women's Movement and NOW. The entire stated point of their activities was to destroy the American family and with that, Western Civilization. Is this not crazy? They were tooth-grittingly determined.
"They were driven by destruction and deeply violent impulses toward men and the patriarchy. Their goal? To establish a matriarchy in order to end all war because that's what men do, wage war. They believed that if women ran everything there would be no more war. In their madness they have conspired to destroy masculinity, drugging our little boys while trying to remake them into little girls and thus, emboldening our enemies who now see us as easy pickings. No nation is easier to overwhelm than one which has feminized the men and put females at the head of the tribe. Matriarchies never survive – never have, never will!"
God tells us that those who "hold the truth in unrighteousness" (they know the truth but rebel against it) are given over to a reprobate mind (Romans 1). Reprobate means "a person abandoned to sin; one lost to virtue and religion." This completely describes the founders of feminism since they were against all of God's beautiful ways and they deceived women, even Christian women, into believing that leaving their homes all day and their children in the care of others is best.
"And for this cause God shall send them strong delusion, that they should believe a lie: That they all might be damned who believed not the truth, but had pleasure in unrighteousness" (2 Thessalonians 2:11, 12).
Instead of following culture and the lies of the mentally ill, young women should consider this when making life decisions:"If all mothers based their choices on whether to return to work by asking the questions, 'What does the Bible say?' and 'What is best for my child spiritually?' different choices would be made" (Judy Turner). What does the Bible say? It commands young women to love their children and be keepers at home. What is best for their children spiritually? To train them up in the ways of the Lord and hide God's Word deeply in their hearts when they rise up, walk along the way, and go to bed.
Christian women need to wake up and understand that they need to stop following women who had and have reprobate minds and begin following Jesus and His ways instead. Our culture is a mess and it's because women have left their God-ordained roles at home and pursued their own selfish gain at the expense of their children.
For those who want to give me all of the exceptions and "what ifs…," gain some wisdom from Nancy Campbell: "Are we going to base our lives on what 'might happen' and be tortured by the 'sound of fears,' or are we going to trust in God, who is sure, steadfast, and able to deliver us in any situation?" He tells us that His commands are not burdensome and He is our provider.
From the article above (which I encourage you to read): "My thesis is this: when men ran the world and women ran society we had a chance to conduct our lives in some semblance of balance, but women have abdicated their running of society and thus, it has collapsed dramatically. Women forced their way into the running-the-world deal and now we have a world gone mad. And the beautiful society which we Western women built is in tatters. Moms decided they were the same as men so they deserted the home and babies to grab their briefcases and rush out to run the world."
Let this not be said of us, women. Go back to the ancient paths, the perfect paths, that God created for you and find rest for your souls which many refuse to walk on.
Thus saith the LORD, Stand ye in the ways, and see, and ask for the old paths, where is the good way, and walk therein, and ye shall find rest for your souls. But they said, We will not walk therein.
Jeremiah 6:16