Grandmothers Need to Be Keepers at Home
Grandmothers Need to Be Keepers at Home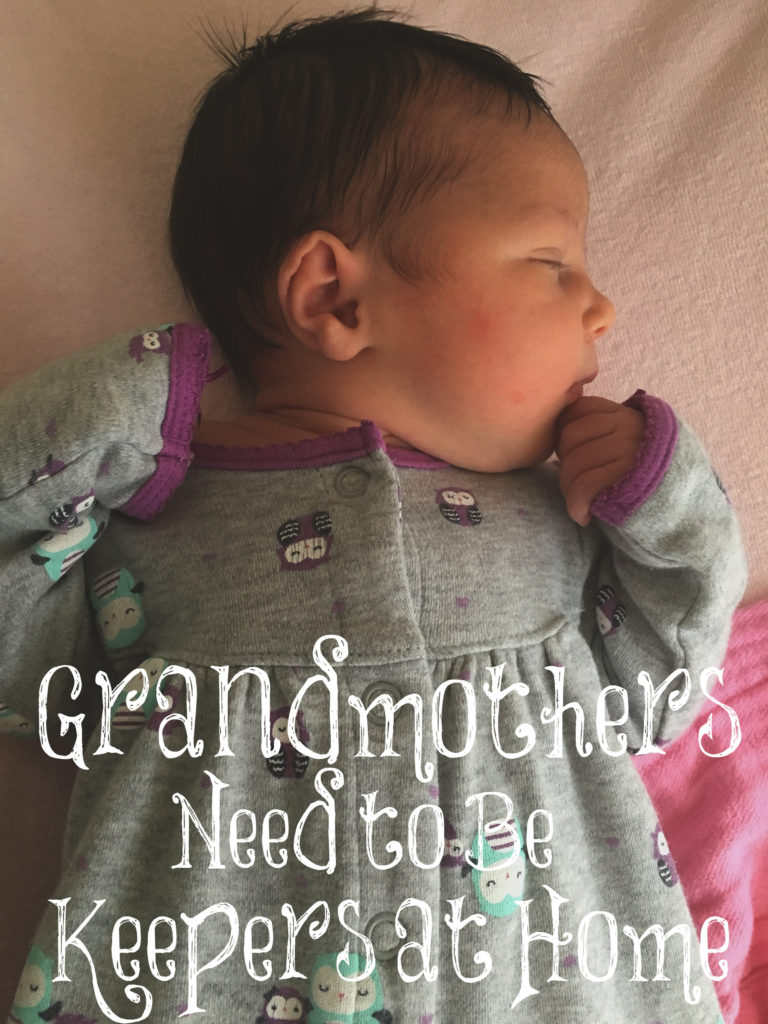 Older women are told to teach young women to be keepers at home but what about grandmothers? Are they to be keepers at home? Here is how God's Word defines the role of older women:
The aged women likewise, that they be in behaviour as becometh holiness, not false accusers, not given to much wine, teachers of good things; That they may teach the young women…(Titus 2:3, 4).
Well reported of for good works; if she have brought up children, if she have lodged strangers, if she have washed the saints' feet, if she have relieved the afflicted, if she have diligently followed every good work (1 Timothy 5:10).
I don't see anything about having careers or living as one pleases or for pleasure in these verses. Yet many older women go back to careers once their children are raised, go on vacations, and keep themselves doing things they want to do instead of what God has instructed them to do.
In the dim and distant past
When life's tempo wasn't fast
Grandma used to rock and knit
Crochet tat and baby-sit
When the kids were in a jam
They could always count on Gram
In the age of gracious living
Grandma was the gal for giving
Grandma now is in the gym
Exercising to keep slim
She's out touring with the bunch
Taking clients out to lunch
Driving north to ski or curl
All her days are in a whirl
Nothing seems to stop or block her
Now that Grandma's off her rocker
– Anonymous
Right after my children were born, my mother came and lived with us for two weeks. She did this for my sisters, too. When I was so sick all of those years, she was the first one at my home to help in any way she could. My first baby had colic so when I was overwhelmed, I would go to my mom's home and she would take over walking and rocking the baby. She's always been there for us and this is the way it should be. I have been blessed and am thankful for a mother like her.
My youngest daughter just had that cute baby in the picture. The day she was in labor, I was on a plane to go take care of her and her family. She has a toddler and a busy husband. I cooked, cleaned, rocked, shopped, babysat, and did whatever she needed from me. I wasn't able to do this with her last one because I was so ill but it's a huge blessing that I felt well enough to go this time. Her life would have been much more difficult if I wasn't there to help.
My older son and his family live near us. We babysit their three children whenever they need us. They went on a week-long trip and we watched their children. When they are sick, I will cook them meals, help clean, or even bring the children to my home so my son and his wife can have time to get well.
This is God's intended purpose for older women and many young women are suffering because their mothers and/or older women aren't available to help them. Yes, grandmothers need to be keepers at home, too.
For, brethren, ye have been called unto liberty; only use not liberty for an occasion to the flesh, but by love serve one another.
Galatians 5:13