Why Don't Women's Bible Studies Teach Godly Submission?
Why Don't Women's Bible Studies Teach Godly Submission?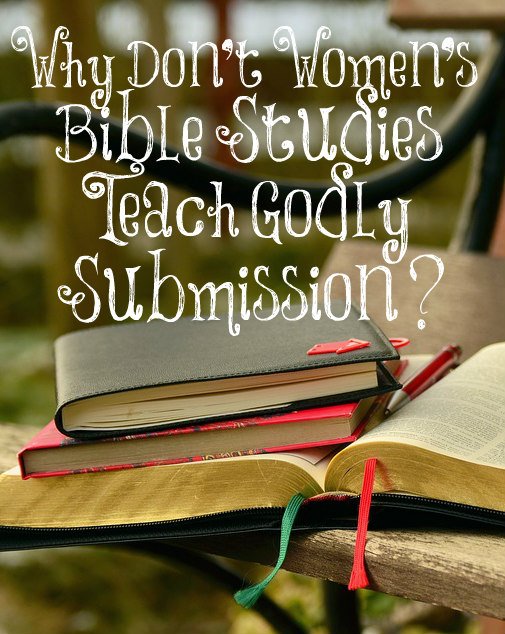 The discussion about women teaching the Word is a hot topic in today's lukewarm culture but I never want to make rules that are not in the Word. If older women are to only teach other women what is in Titus 2:4, 5, they would absolutely have to teach some of the Bible. I have to use Bible verses to teach what good, modest, chaste, and sober are according the the Word. I teach them what a meek and quiet spirit. I teach them everything that the Word teaches women to be. For great theology, I try to point them to godly male preachers who have studied the Word for years.
Timothy Hammons has written an interesting post on this subject. I haven't read anything else he has written but I agree with a lot of what he wrote in this article. He wrote about Titus 2:3-5, "We see no mention of older women teaching the younger women the word of God. The older women are to help the younger women with their primary calling: loving their husbands and children, working in the home, being kind and submissive to their own husbands. Far be it from the women's ministries of our current age to ever teach younger women anything dealing with godly submission." Agreed. Most female Bible teachers stay far away from submission and the one popular one that I do know has no problem calling herself a preacher and teaching men.
"Let your women keep silence in the churches: for it is not permitted unto them to speak; but they are commanded to be under obedience, as also saith the law. And if they will learn any thing, let them ask their husbands at home: for it is a shame for women to speak in the church" (1 Corinthians 14:34, 35).
Mr. Hammons wrote: "The role of women in the church is quite clear to those who will actually look at what Scripture says. There is no call for women to be leading large masses of women in Bible studies, or at conferences, or any other such notion. According to the passage in Titus, and the way God created women, they are to be at home serving their husbands." He is right. There is not one woman in the entire Bible that did what many popular Christian women are doing today since women are called to be keepers at home. These popular female "preachers" can't possibly be keepers at home serving their husbands if they are traveling all around teaching women everything but Titus 2:3-5. These verses would convict them if they taught them. God has ordained men to teach the Word since men were created first and as the leaders, and women are easily deceived. (You sure can see this with many of the female preachers and teachers today.)
But I suffer not a woman to teach, nor to usurp authority over the man, but to be in silence. For Adam was first formed, then Eve. And Adam was not deceived, but the woman being deceived was in the transgression. (1 Timothy 2:12-14)

Why don't Women's Bible Studies teach godly submission? I have no idea but I suspect it's because many women no longer believe in it or they are afraid to teach it because of what feminism has done to women today, including Christian women. We should never fear what God has taught us to teach. From my experience, many Christian women are hungry for the truth of God's Word concerning godly womanhood. Marriage isn't working the way most women have been brought up. They see the devastation arguing and divorce causes since many of them are products of divorced parents and don't want it for their children.
The best thing Women's Bible Studies can do is to begin teaching what God has commanded older women to teach young women. The Church will never be strong if marriages aren't strong. God's vehicle to raising godly offspring is through godly, united parents with mothers home full time committed to training, disciplining, and teaching their children God's Word. This world is in desperate need for godly children who become godly adults to contribute goodness, kindness, hard work, and preach the Gospel with their lives and words. This world needs Jesus. Are you bold enough to speak to the women leadership of your church and ask them to teach godly submission? Have you tried? I have and it wasn't received well at all so I began a blog and decided to teach them this way instead.
The aged women likewise, that they be in behaviour as becometh holiness, not false accusers, not given to much wine, teachers of good things; That they may teach the young women to be sober, to love their husbands, to love their children, To be discreet, chaste, keepers at home, good, obedient to their own husbands, that the word of God be not blasphemed.
Titus 2:3-5