Holding Hands and Laughing
Holding Hands and Laughing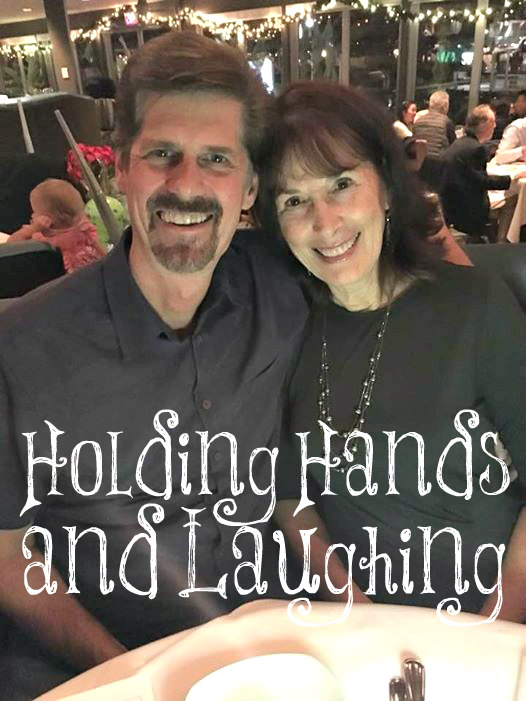 Ken and I take a walk around a park near us almost every afternoon and we hold hands the entire time. Once in a while, we will pass these two women. One of them is the daughter of the other one. One time, we weren't holding hands for some reason and the older woman made a motion with her hands to show us she wanted to see us holding hands. In church whenever we sing, we put our arms around each other's waist. One day when I went to see my granddaughter in the nursery, one of the women taking care of the babies looked at me and said, "You're the lovey dovey couple!"
Throughout the years we have received some comments about this and people like it. I like to see others couples holding hands while they are walking but they are usually dating couples. At restaurants when I see a couple laughing and having fun together, I usually notice that neither of them have rings on their ring fingers while married couples sit there and hardly say a word to each other. Why should holding hands, putting arms around each other, and laughing be saved for couples before they are married? Why does this stop once most couples get married?
It's usually because they don't like each other much anymore. Little arguments begin springing up in their relationship. They start growing farther and farther apart from each other. They see life differently and both have different expectations. They become like two ships passing in the night. No one has taught them how to be married. They knew how to date since they would watch all the couples around them being affectionate and having fun but once they got married, it slowly fades away, especially when the babies begin to come along.
One woman who was going to get married asked a young friend of mine who has three small children, "Do you ever having sex anymore since the children came or does that fall by the wayside like another married friend of mine told me? This makes my husband not want children." My wise young friend responded, "Oh no! We have always made time to be alone together after the children have gone to sleep to just talk and enjoy each other." They have made their marriage relationship a priority from the very beginning and aren't going to allow anything to come between them, even their children.
My iPhone was broken so yesterday I took it into the AT&T store. A young guy was working on it and it took over an hour to fix. While we were there, a grumpy old man came and spoke in a mean way to one of the young saleswomen and then stomped out of the store. The guy helping me said to her, "You're just a terrible person!" and they laughed about it since they don't want mean people to ruin their day. He told me that they have quite a few mean people come in like that and he thinks they must have miserable lives. I then told him about my blog and the cruel people who sometimes respond to my posts. Yes, mean people must not be fun to live with at all.
He asks what my blog was about and he told me that the woman he has been with for four years never argues with him and they have a lot of fun together. "Without fun in a relationship, it's not worth having," he told me. He asked me how we keep our marriage good after so many years. I answered, "Being cheerful, the ability to laugh with each other, and affection keeps a marriage strong. We are happier together now than we've ever been! And you know what? It doesn't take any work to make it that way. It just happens since I quit trying to control him, argue with him, and accept him the way he is; I don't even remember the last time I was upset with him."
We continue to hold hands (instead of arguing the entire walk like we did in the past, we now spend the time laughing and having fun), put our arms around each other while we're praising the Lord in church, and laugh with each other. There are no more walls between us. They were torn down a long time ago and there is peace.
How about you? Have you torn down your walls? Controlling, nagging, manipulating, being grumpy, and being contentious are what builds walls and stopping doing these things tears the walls down. Most men want a peaceful home. A peaceful home can't happen with a controlling wife. Give up control. Allow him to lead. Quit arguing and begin smiling at him instead. Make your marriage easy for the both of you. If you have a disobedient husband, follow 1 Peter 3:1-6 and pray. God's ways are always perfect for us.
Let all bitterness, and wrath, and anger, and clamour, and evil speaking, be put away from you, with all malice: And be ye kind one to another, tenderhearted, forgiving one another, even as God for Christ's sake hath forgiven you.
Ephesians 4:13, 32