Marriage is the Ministry Exalted for Young Women
Marriage is the Ministry Exalted for Young Women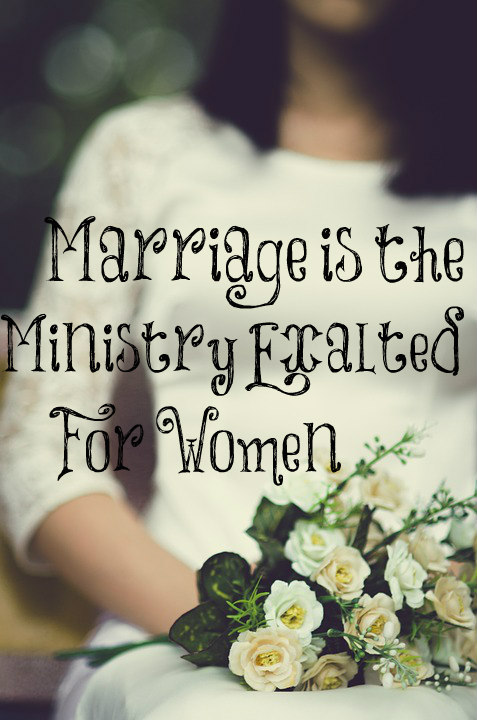 The Apostle Paul commanded the "aged women" to teach the "young women to be sober, to love their husbands, to love their children, To be discreet, chaste, keepers at home, good, obedient to their own husbands, that the word of God be not blasphemed" (Titus 2:3-5). Then in 1 Timothy 5:14, he commands this of the young widows, "I will therefore that the younger women marry, bear children, guide the house, give none occasion to the adversary to speak reproachfully."
When I use this verse in 1 Timothy to encourage young women to marry, bear children, and guide the home, women have angrily responded to me by saying that this verse is only for young widows. Why would Paul's instructions to young widows be any different than those for all young women? Is it simply a way for women to get out of doing what God asks them to do? Do they use Scripture to manipulate it to say what they want it to say? Is there anywhere in God's Word that commands women to leave their homes each day and work for a boss? Paul's instructions to young widows are no different than his instructions to all young women.
Joseph Spurgeon recently preached a sermon on this topic:
"We have a plethora of young women in the church who are willing to travel the globe for Jesus but not many who are willing to do the hard work of digging in, planting foundations, and loving a husband and children. It is easier to serve children you can leave behind after a few months than it is to serve your own. It is easier to serve strangers we meet on the streets whom we will never see again than it is to love our own families.
"Yet which of these things is commended in our passage? What are the things that are lifted up as keeping with sound doctrine? It is not as if mission trips, college, seminary, and other endeavors are not good things, but in our passage, they are not considered the normal way of things. Instead, older women are commanded to teach the young women to love their husbands. Marriage is the ministry that is exalted here.
"Yet we live in a period of incredible decline for marriage. The one thing to which young women are commended here is the one thing they are not doing in our time."
We don't have a problem with "toxic masculinity" in this culture." We have a problem with toxic feminism. It's feminism that is toxic and has destroyed biblical womanhood for most women in the churches who have gone the way of the culture. Women are taught to not want to be married. They're taught to not want children. Why want this when they can pursue their own career and make their own money? Women need to stop believing the lies they are being told and search God's Word instead for truth in how they are to live. His will is for them to marry, bear children, and guide the home.
Women have told me how hard it is to be married and have children and ask why I don't write about this. Hard isn't bad! God doesn't ask us to live comfortable lives in which we only live to please ourselves. No, He asks us to live sacrificial lives that require hard work and giving ourselves away for a higher purpose. Our culture is one of self-seeking rather than God-seeking.
Read the entire sermon by Joseph Spurgeon linked above. Yes, some of you aren't married, yet you would love to be. Pray consistently. Pour your heart out to the Lord and wait upon Him. The same goes for those of you who are infertile. The Lord knows you are grieving. Most godly young women want more than anything to be married and have children. God knows this since He created you to want this. Wait for His timing, dear women. He hears your cries. He is a good God and His plan for you is good. In the meantime, He can use you in powerful ways for His Kingdom in your singleness.
Thou art good, and doest good; teach me thy statutes.
Psalm 119:68