Teaching "Black Pride" to Children
Teaching "Black Pride" to Children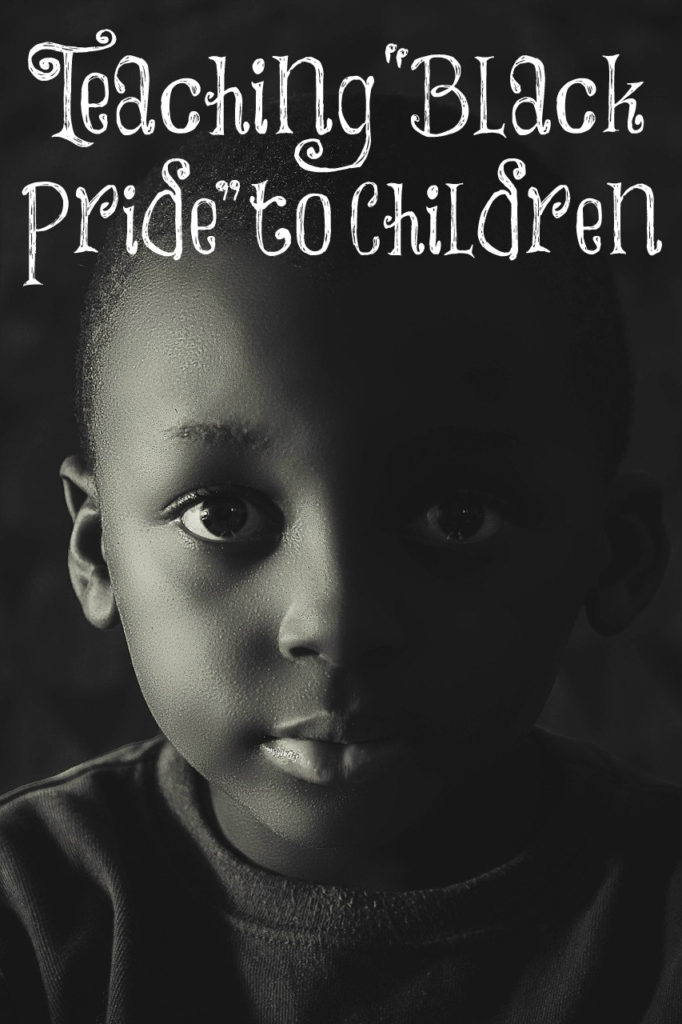 "Can you maybe write a post, on your blog, regarding African-American mothers of young children and how we are the same as other women? You see, I am often cut-off from family and friends because my husband and I do NOT buy into the 'you should teach your kids black pride' narrative. When I tell even close family (siblings), that 'diversity' is NOT important to us, that only JESUS is important to us, they get angry with me…….
"I do NOT want my kids to grow up thinking that the world owes them something because they are African-American and because they are 'victims'; they are NOT, but they are sinners just like everyone else and they need a SAVIOR. My hubby and I think that this narrative is TOXIC and one of the ways that Satan uses to keep people from truly knowing Jesus. Therefore, I MUST keep my kids, unfortunately, from being influenced by MOST of my family.
"That hurts me a lot, but I remind myself (and them) that my allegiance does not belong to them, only to my husband and children, and we want our children to grow in CHRIST, NOT based on RACE!
"It makes me so sad and angry! They NEVER want to look at themselves to see what they are doing wrong, they only want to push false narratives…..! Its SICKENING!
"Do you ever have anyone else ask you that question, Miss Lori? Have any African-American men ever asked Ken that question? Sometimes I am not sure how to deal with it, and I have lost many family members who have been offended because I will NOT let my children hang out with them.
"They also get mad because of where hubby and I have decided to live….as if we should live next to other African-Americans even if it means that our children will not see and be exposed to Jesus, which is the ONLY thing that matters to me!
"Lori, is there any chance that you can address this in one of your posts on your blog, specifically? Please forgive me if I am being too forward or if I m asking too much or if I am being long-winded—I am trying to find like-minded women but they seem to few and far….."
I received this email from a woman and here is my post for her. First of all, this is what God states about pride: "Pride goes before destruction, and an haughty spirit before a fall" (Proverbs 16:18). The only thing that we should take pride in is knowing Jesus Christ as our Savior. "But God forbid that I should glory, save in the cross of our Lord Jesus Christ, by whom the world is crucified unto me, and I unto the world" (Galatians 6:14). 

When I was growing up, we sang a song that went, "Red and yellow, black and white, they are precious in His sight. Jesus loves the little children of the world." This is how we should be raising our children. The color of one's skin means nothing. We are all equal in value and worth. We are all sinners in need of a Savior as this woman stated and once we believe, God calls us saints no matter what the color of the skin.
God hates division among His children. He has called us to be a peace with ALL men as far as it depends upon us. "Black pride" and division should not be named among us; for we are all one in Christ. "Now I beseech you, brethren, mark them which cause divisions and offences contrary to the doctrine which ye have learned; and avoid them" (Romans 16:17).
Raising children with a victim mentality is one of the worse things you can do for them. Teach them, instead, who they are in Christ and that they can do all things through Christ who strengthens them. Teach them that life isn't fair and they need to learn to work hard, love others, and treat them as they want to be treated. Teach them how destructive bitterness is and how we are to forgive each other 70 times seven times, yes, even the sins of past generations. Teach them to be full of grace and mercy towards others.
In this way, you will raise children who are a benefit to their culture. They will grow up to be productive citizens who hold nothing against others. They will be salt and light to a wicked and adulterous nation since they are not grumbling and complaining about their "lot" in life but thanking the Lord for all the good they have; for godliness with contentment is great gain!
Do all things without murmurings and disputings: That ye may be blameless and harmless, the sons of God, without rebuke, in the midst of a crooked and perverse nation, among whom ye shine as lights in the world.
Philippians 2:15