Playing Russian Roulette With Your Children
Playing Russian Roulette With Your Children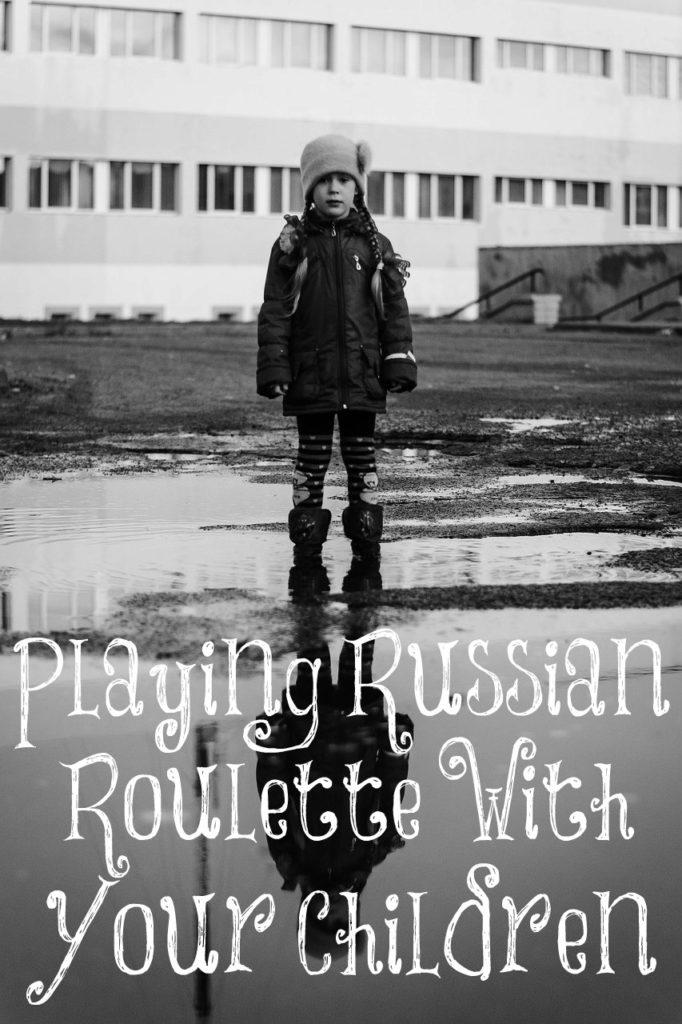 Written By Ken
In today's world of broken homes and broken children, it is hard to believe that our society cannot see that it is the result of the lies they were told and they believed just a few generations ago. Women were told they could do whatever they wanted with their lives with no thought of the damage it would do to their children over time and over many numbers of women working. What is a mother to a child but EVERYTHING to them?
Women were told that they did not have to stay in a relationship that did not fit their feelings, or they felt like they were not the sole focus of a husband's life, so they divorced without thinking of the damage it would do their kids and now in turn all of society. Yes, women were taught to follow their feelings and desires because they were equal to men, while never realizing that most men were not following their feelings or desires but instead putting their hands to the plow and working hard to support a family that would stay together and create their legacy.
You see, women have been lied to and its the same lies told over and over again that began in the garden. "God did not really say that, did He?" and "You won't really get into trouble as the apple in front of you looks so delicious…, just eat. Then worry about the long term consequences later."
We all eat the apple. We all want to do things our ways, be our own little god of our puny little lives, and seek the immediate pleasures over ignoring the long term consequences. Well, the day has come when the consequences are coming home to shower bullets on our children and wreak havoc on our society.
Oh, you say, "But I work and there is no problem in my family and with my kids." And I say "Congrats!" You played Russian roulette with the lives of your children and family and you are one of the maybe 50% that has not suffered divorce or children damaged because of it. Just keep in mind that the sins of a parent are visited even until the third and fourth generation. You may have escaped, but have your children's children when now their mom goes off to try to follow the example set for her by her mother?
We live in a depressed, anxious, and often dangerous society because the family unit is broken. Moms and dads chasing their own apples of desires and pleasure all at the expense of their children. Of course, these women hate it when Lori speaks the truth to them and she tries to get them to think about the damage they are causing society.
And yet I hear them now, "Not me! I was able to avoid the gun going off in my family." Okay, now look to your left and your right and see that only about 50% of families are escaping the dreaded consequences that come when we walk away from God's Word and God's values. And you have taught your sons and daughters to take the chance and eat the fruit as a two worker home that surely does provide far more security and pleasures than a family with one dad who works hard for his family.
Alas, if we want to look to why some of our kids are so messed up: eating Tide Pods, guzzling alcohol, doing drugs, catching life-long sexually transmitted diseases, turning gay, and worse yet cutting off body parts to try and feel whole, look not much further than a mom who was rarely at home when they needed her love, comfort, and correction. Look no further than the stupid experiment perpetuated on America by Dr. Spock of lax discipline. The experiment failed and now we have half a generation of unhappy and depressed kids and adults. For there are no more apples to eat. We are already eating them all and not a one of them is satisfying.
To get our society back on track will take a huge amount of energy and effort by those willing to look at the damage caused by moms leaving their children and lax parenting and get back in the home and do the work of training. Yes, just as God said from the beginning, "Train them in the way they should go and they will not depart from it."
The God who wrote the instruction manual on human love and life has spoken, but will our society listen and allow His Word and values back into our homes, schools, and churches. Or are we in for the next generation who will not only walk away from God's values, but will choose to rebel against Him and destroy those who love anything about God and His ways? I pray our society is reaching a turning point, but fear it will once again choose to no longer hearken to the words of the Lord. Just because you escaped your sins with no seemingly bad consequences doesn't mean the woman you influenced will.
Whom shall he teach knowledge? and whom shall he make to understand doctrine? them that are weaned from the milk, and drawn from the breasts. For precept must be upon precept, precept upon precept; line upon line, line upon line; here a little, and there a little.
Isaiah 28:9, 10