Working Mothers Raise Better Children?
Working Mothers Raise Better Children?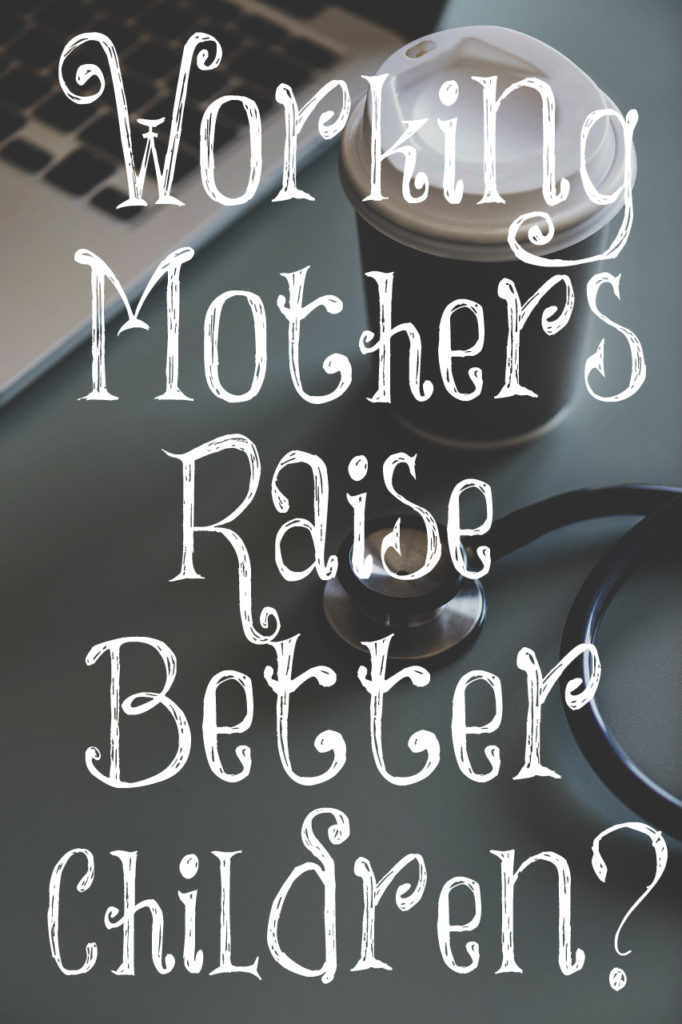 A woman sent me an article and told me that I am dead wrong about working mothers. She linked an article called Working Moms Raise Better Kids. How are these kids better than stay-at-home moms' children? "They found that the daughters of working mothers are actually more likely to be successful. That means they're more likely to have jobs, be in positions of authority, and make more money than girls raised by non-working mothers." Yes, if you are looking to raise children who are successful in the eyes of the world, then yes, work outside of the home and let someone else raise your children.
Raising daughters who have careers, are in positions of authority, and make more money than others are not things that I wanted for my daughters at all. None of these things interested me in the least. I wanted daughters who loved the ways of the Lord, being married, bearing and raising children, and not caring about making a name for themselves in this world by ruling over others.
All of these things that this woman and many other women believe are important aren't important to the Lord at all. There's not one place in His Word that states that women are to have jobs outside of their homes. There's not one place that tells them to be in positions of authority except for over their children. In fact, the Bible warns about women being in positions of authority. No, it's not a good thing! "As for my people, children are their oppressors, and women rule over them. O my people, they which lead thee cause thee to err, and destroy the way of thy paths" (Isaiah 3:12).
There's not one place that tells them that it's important to make more money than others. In fact, the love of money is the root of all evil (1 Timothy 6:10)!
"Boys were found to be more caring: they're more likely to spend more time taking care of family and taking care of the household than boys of non-working moms." If you want to raise boys who are good homemakers, then yes, work outside of your home. I have no problem with men helping with housework but it shouldn't be an expectation that women place upon their husbands since God calls women to be the keepers at home not men. But yes, our culture values men who take on women's roles since women have taken on men's roles, even though men never asked for this in the first place.
"Maybe a working mother is a good role model for their daughters, and it sticks with them until their working years." If a good role model means leaving their home for hours every day five days a week, working for a boss, and their children are left with strangers, then yes, this is a good role model but nothing that I wanted for my children and nothing the Lord cares about.
"The numbers say that daughters of working moms are 4.5% more likely to be employed, compared to the daughters of stay-at-home mothers." Big deal.
"When a mother goes to work, it shows her daughter that they have good opportunities to be successful." So what. Successful to whom? To her husband and her children if she has been blessed by them? Successful because she makes money and is in authority over others? Was she around to see her children's first steps, first words, raise them in the nurture and the admonition of the Lord, teach them about purity and modesty, read the Word to them daily and have them hide it deeply int their hearts, teach them to be kind and honest, discipline them when needed, and all of the other things that children need and want? No, she wasn't. This is heartbreaking and a lie they are being told with tragic consequences for themselves and their children.
In a study of the impact of working mothers, the conclusions are sobering and the need for mothers home full time are essential for a healthy culture ~
As can be seen, the effect of women in the workforce are dreadful to the society and future generation. Women that have children should stay in the role of a mother to nurture the children in order to have a better future generation. When less mothers join the workforce, there would be higher birth rates as they would not have other intentions on postponing childbearing. The rate of latchkey children will be decreased, too, when there are less mothers working in order to spend more time with their children. This would help in lowering the crime rates and teen pregnancy. The future generation will be brighter for the country, and the society will be a better place and lesser burden on the welfare system. Lesser women in the workplace would help in lessening the cases of sexual assault in the workplace and lower discouraged workers. Society will have better employment rates and lower suicidal rates.
I will therefore that the younger women marry, bear children, guide the house, give none occasion to the adversary to speak reproachfully.
1 Timothy 5:14