The Shattered Nature of 21st Century Relationships
The Shattered Nature of 21st Century Relationships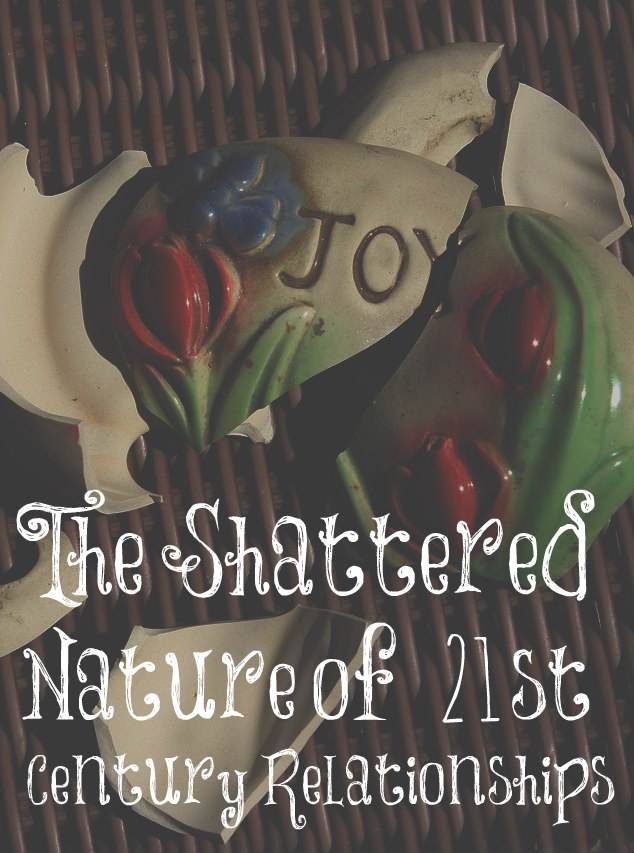 This post is a comment from my post called Where Have All the Good Men Gone?
I stumbled upon this blog while doing some research on feminine qualities. Before I address the topic at hand please allow me to comment upon how stunned I am to see such graciousness and civility extended in these comments towards each other, especially given what a acidic topic this is today. Such carefully thought out ideas and replies in this day and age is frankly unheard of. The work of God upon your lives is so evident in how you speak to each other that I am honestly overwhelmed, even a little intimidated for I feel so obliged to emulate you in my own post that I find I'm triple checking what I say!
Now to the topic at hand.
I have now read through every comment on this blog post to date, and may I say it seems each post drips with personal tears and no small amount of pain because of how close to heart this subject is to everyone here. The absolutely shattered nature of 21st century relationships is like a road of broken glass that we are all walking through barefoot.
I will not attempt to cast any specific blame upon men or women simply because there is so much to go around. We are already so far past any one or even a dozen causes of the fracturing of relationships that to add a few more to the already overwhelming list only tastes like ashes. Our sins and failures because of the lies we have believed about men and women have made a wreck of our nation. The problem is now so big its past our ability to solve.
Therefore, we have only one recourse left to us. One only. We must cry out to God, our need of mercy and healing can only be fulfilled by him. Only God can mend wounds as deep as those we have inflicted upon our nation and ourselves.
And the Lord appeared to Solomon by night, and said unto him, I have heard thy prayer, and have chosen this place to myself for an house of sacrifice. If I shut up heaven that there be no rain, or if I command the locusts to devour the land, or if I send pestilence among my people; If my people, which are called by my name, shall humble themselves, and pray, and seek my face, and turn from their wicked ways; then will I hear from heaven, and will forgive their sin, and will heal their land.
2 Chronicles 7:12-14