When He Comes Home After the Affair
When He Comes Home After the Affair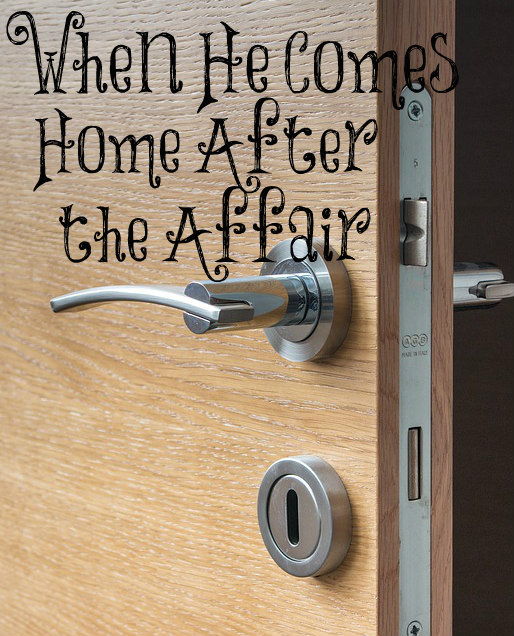 Her husband had an affair but she fought for her marriage using 1 Peter 3:1-6 because she cared more about her husband's eternal soul and her children's future than her own happiness. She was willing to do what God told her to do to win her disobedient husband in spite of the pain and suffering he was causing her. She won her husband back but would still have times of grief thinking about her husband with another woman and the pain of it all. During these times of crying, her husband would hold her. One of these times, she felt his tears flowing down her face as he told her how sorry he was for the pain he caused her. He finally showed true repentance from his affair. Here are words of encouragement from her to a woman in the chat room whose husband is having an affair and any of you who are reading this and are in the same difficult situation.
That was one of the most beautiful moments in my marriage; to watch true repentance happen is wonderful! It was almost two years after my husband confessed his affair that I saw true repentance. Of course, he apologized to me before that and wanted our marriage to work, but there wasn't true godly repentance and sorrow about it until almost two years later. Until that point, it was still lots of daily work on his part and especially mine. Now, we still work at our marriage, but it isn't a struggle. It's soooo much more joyous and wonderful!
 I want to tell you that when your husband comes home, that's when the real battle takes place with you especially. It's already starting with comparison. You have to KILL. THAT. NOW! Don't allow that to happen. Anytime the thoughts come, you must renew your mind with God's word and stay continually in prayer.
I will be honest, I was overjoyed when my husband and I decided to begin working on our marriage after the affair but I wasn't prepared for how hard it would be with the battle of my mind. That's where our flesh is the weakest and Satan attacks the hardest. I went into a depression because I turned to my husband, now that he was home, to fix things that he messed up. He couldn't then and he still can't now. But I expected it. And it dragged me down to the lowest point. I turned my husband into Jesus into my mind and it crippled me and almost made our marriage fall apart again because I became so obsessed with him and was living in fear of it happening again..
So here me now and learn from my mistakes: Keep your eyes on Christ. I'm gonna repeat that again because it's sooooo important…KEEP YOUR EYES ON CHRIST!!! Don't let your mind dwell on what happened or what your husband might be thinking or doing. Don't. Focus on God and His blessings instead. Keep being the wife that drew him to want to come back home. But don't make him your idol or your Jesus. It will destroy the marriage you have worked so hard to maintain.
When it gets hard…pray. When your mind wants to wander…pray. When thoughts try to come and invade your mind…pray!!!! Get in the Word, more so now than you ever have. Renew your mind!
Trying to bring your husband back home was tough…but now the real battle against your mind will begin. As you see, it already is. Stay strong. And forgive your husband. Truly and deeply forgive him. Come in here and let us help you when it gets tough. God is on your side and with him on your side you have heaven's armies on your side too! I am soooo glad he is coming back! Prayers are being answered!!! Keep winning him without a word. God will bless this. He already is!! Many hugs!!
Likewise, ye wives, be in subjection to your own husbands; that, if any obey not the word,
they also may without the word be won by the conversation of the wives.
1 Peter 3:1