A True Story of a Wife's Faithfulness to an Unfaithful Husband
A True Story of a Wife's Faithfulness to an Unfaithful Husband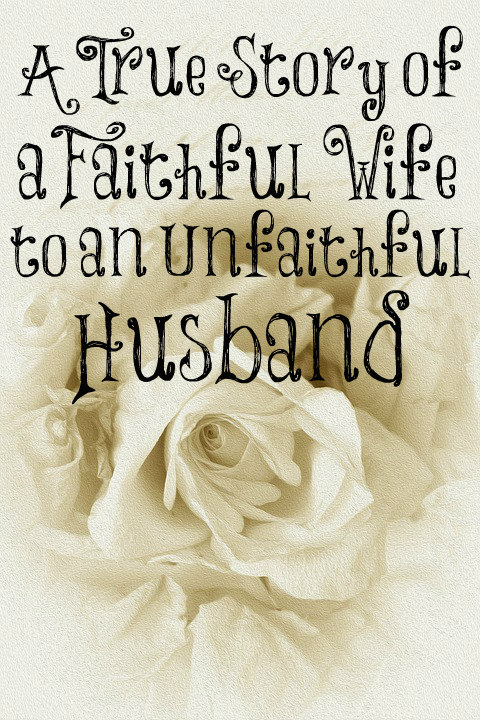 Written By Mother Dearest on this post.
My maternal great grandparents separated and my great grandmother left the home and crossed the border to a neighboring country, never to be seen again. (She remarried and we met our half-relatives decades later, but not her because she'd passed away long before). She left my grandmother, who was an only girl and the eldest, to raise her four brothers herself. She was only about 11 years old. Many women came in and out of the home but none stayed so my grandmother was the "mother" to her brothers.
English missionaries came to our country and preached the gospel, set up schools and hospitals. My grandmother was born again and she learned to read and write. Her Bible was her most prized possession. She vowed that when she married, she would honour God by never getting divorced. She didn't want her children to endure what she had. When she married my grandfather, she bore him two sons and seven daughters. She was a committed homemaker and a loving wife.
My grandfather's family, which was wealthier and more influential was not happy that the marriage had produced only two sons (he was an only son) so they mounted a campaign to either oust her or find my grandfather a second wife (polygamy is constitutionally recognized in our country although the church denounces it). Back then, people didn't know enough to realize that the sex of a child is determined by the father, indeed many still don't today in Africa. My grandmother trusted in the Lord to keep her home intact and she extended kindness to her in-laws in return for their disdainful regard for her.
Eventually, my grandfather had an affair with a much younger woman that his sister had recommended would bear him sons. He left home and moved in with her. She bore him two daughters in quick succession, and the relationship was rocky. She was not a good homemaker and a little self-centered perhaps because of her youth. My grandfather missed the comforts of his home and bitterly regretted his affair. His mistress was quarrelsome and depressed because she hadn't had sons and felt threatened. She made his life miserable complaining night and day and accusing him of secretly planning to return to his wife. In the meantime, my grandmother prayed that her husband would come home.
She continued to run his farms and keep all his businesses in good order in the hope that he would someday return. Once when he was away working in a different part of the country (he was in the post colonial armed forces), word came to my grandmother that the other woman had run away with a lover and abandoned the little girls in the house she shared with my grandfather. The older girl of about four had a horrible skin infection on one of her legs. My grandmother set off for their house immediately. She wept to find the children all alone, hungry, dirty, and afraid. It reminded her of the days after her own mother had abandoned them as children.
Determined to keep her history from repeating itself, she fed the girls and cleaned them up. She took them to a nearby dispensary and had a doctor treat the poorly older girl. She thanked the neighbor who had tipped her off and took the girls home with her. She introduced them to her children as their sisters and enrolled them in the missionary school. It was a number of weeks before my grandfather returned to his mistress's house and found it abandoned except for a letter from my grandmother.
He came back home to find his daughters in robust health. His wife welcomed him home and forgave him. Their marriage was stronger and my grandfather loved and appreciated his wife more than ever. She later went on to bear him two more sons and years later, my grandfather was born again too. None of my grandmother's children are divorced (the mistress's older daughter is divorced and alone after several failed relationships, but the younger was married until the day she died).
My grandmother's faith in action had a profound effect on my mother and on me. Our love for God is in a way an inheritance from her. My own mother faithfully loved my father through thick and thin and was by his side as he breathed his last. During one of our premarital counseling one-on-one sessions, the pastor's wife (who had been trained by my grandmother in the church's mothers' union) said to me, "Your mother left her home and family to marry your father and create a loving home for you and your siblings and never looked back. So did your grandmother. Remember these women always. Honor their commitment by keeping yours. Go and marry for life like they did." Those words have stayed close to my heart.
My prayer always is that my great grandmother's divorce may be the last one in my family tree. And so my mother and I vowed to tell these stories candidly to our children so that they can remember that divorce destroys, forgiveness and restoration are possible, and wholeness can be restored in a hopeless situation by God's grace. I urge wives to be the one guaranteed place in this harsh world where their husbands can be assured of finding grace and forgiveness because we too have been redeemed and forgiven so much more by God's grace.
Wherefore they are no more twain, but one flesh. What therefore God hath joined together, let not man put asunder.
Matthew 19:6