Do Women Have to Compensate for Men's Weakness?
Do Women Have to Compensate for Men's Weakness?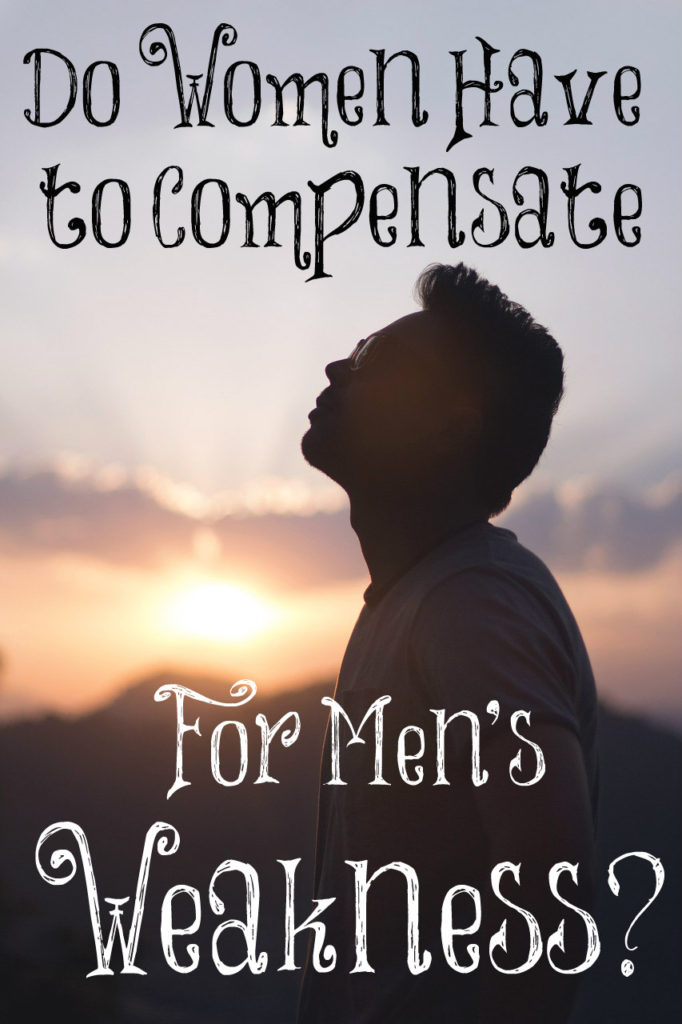 A woman wrote the following comment to me trying to explain why she divorced her husband and why feminism is so badly needed.
"Let me say this though, I was married for 14 years and it ended in divorce in 2015. While we were married, he believed that all he had to do was provide and then his 'obligations' as a man were covered. Always obligations never with gratitude or recognition of his blessings. It seems to me a lot of men believe that providing is enough.
"Men put provision on such a scale and uplift in an attempt to guilt trip the women in their lives from complaining. I was holding down the home with three young kids. Cooking, cleaning, homeschooling, and completely exhausted by the end of the day. He wanted 30 minutes to unwind before being bothered with kids and family when he came home. Thirty minutes turned into hours in the garage tinkering with cars always with a promise to eventually join the family. When he finally joined us he was p**** off for having to do so and treated the kids with disdain.
"Every Sunday, I dragged his sorry self out of bed for church and got everybody ready by myself. He'd still be laying in bed and make us late for church week after week.
"Now I am a single mom with three kids and I have the added luxury of being a provider and student as well. The providing is the least of my difficulties, if all I had to do was get my self out of bed and go to work while my spouse did EVERYTHING else…it'd be an easy life. Now I do it all.
"Men today are such crybabies and that's why the feminism we're experiencing today is so extreme, the men are weaker so the women have to compensate."
So let's see, she divorced her husband because he wouldn't do what she wanted him to do. Let me ask you a question: Is this woman's life easier or harder since she divorced her husband? When she was married, she had to do everything concerning the home and children, but her husband provided the money for her to stay home full time. After she divorced him, she still had to take care of everything concerning the home and the children but now she had to do the providing. She tried to use her example to prove that her husband's life was easier than her own, thus her husband was weak and this was a reason for divorce.
In reality, she had it made when she was married. She had the entire day to take care of her home and children. She didn't need to worry about making money to pay the bills or the stress of working outside of the home. Did she ever show her husband appreciation? Did she ever ponder how she treated her husband and the words that she said to him? I seriously doubt it. If she had he may have been much more willing to help her and even want to be around her when he got home but if he came home to an angry and disappointed wife every day, it's not much motivation for a husband to want to be around.
Has feminism become popular because men are so weak, as she claims, or have men become weaker because of feminism? I believe it's the latter because feminism has confused the roles. They have caused women to not appreciate husbands who work hard to provide. Too many women now expect their husbands to come home and help with the children and housework and they are continually angry at their husbands when they don't live up to their expectations.
I know there are many similar cases as this one because of my viral post. The fact that I would suggest that wives be content if their husbands don't help around the home sparked outrage. I expected my husband to help around the home for the first few years of my marriage and was continually upset with him which tore down our marriage. This is what I was taught in culture and by others. These expectations only harmed our marriage.
Oh, and can I let you in on a secret, women. Most men like to have at least 30 minutes after a long day at work to rest and have peace. Let him have this time to himself if this is what he needs. Men are out there "slaying dragons" as Dr. Laura used to say and it's not easy to carry the burden of providing for the family. Greet him with a hug and a kiss then let him rest. In this way, he will look forward to coming home and being with you!
Every wise woman buildeth her house: but the foolish plucketh it down with her hands.
Proverbs 14:1