Does Your Home Look Loved?
Does Your Home Look Loved?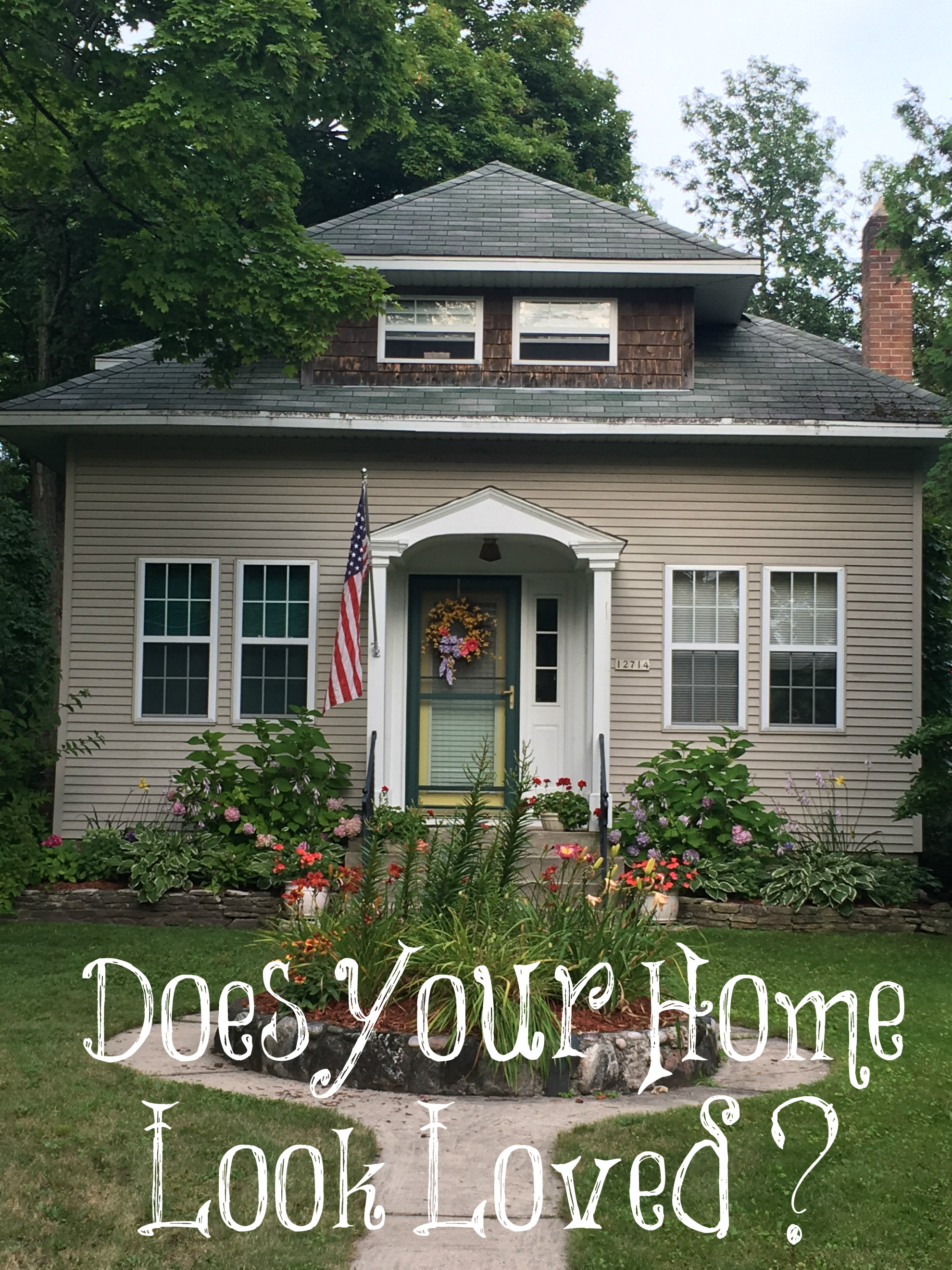 There's an old home we walk past every day. It is not in good shape. The yard isn't either and the whole placed appears completely unloved. A few weeks ago, there were a lot of trucks in the driveway. After a week or so, it was empty and I told Ken I thought that they had probably been evicted from the way they left it.
One day, we walked by and the garage door was left open so while Ken went to close it, I peered into the windows. There was no carpet on the cement floor in the living room and it was dirty and ugly. We finally met the man who owned this home and he said his mother used to live there but it was a rental now and the renters had destroyed it. He said there was an inch of mold in the refrigerator, they stole some of the carpet, and left the home a wreck. He told us that they were drug and alcohol addicts. Sin and Satan does this. They make things ugly and ruined. 
God makes things beautiful and orderly. He makes us into new creatures and clothes us with white robes of righteousness. It's our responsibility, women, to make our homes places of beauty and order. We are called to be "industrious in our homes." If we work hard in our homes, as we are called to do, we will have clean and tidy homes. Yes, children will mess it up but for the most part, it will be a place of beauty and order no matter how little money we have. I have been in large, expensive homes that were filthy so money isn't the issue.
I have a cousin whose parents owned a very old, small trailer. (Yes, this is what they called it.) Once her parents died, she took it over and clean and decluttered that place to make it look great! I even peeked into the drawers once and they were all neat and organized. With some elbow grease and hard work, she transformed that trailer into a pretty place. She always had flowers out in front and food for the birds.
We won't like our homes or being in them if they are dirty and messy. They will never be beautiful if we aren't willing to work hard to make them this way for our family. It just takes a willingness to work. We are the queens in our home and it's up to us to make them places where our families want to be. Work on creating a home that you love!
Make sure you make your bed every morning and train your children to do the same. Fluff up the pillows and make your covers as wrinkle free as possible. Take time to do it right! Make sure all of your clothes are put away and everything is off of the floor. I hang all of my shirts since this is easier than storing them in drawers. Neatly arrange things on your dressers and remember that the fewer things you have on them, the easier they are to keep clean and tidy.
Keep up with the work in the kitchen before it gets overwhelming. Learn to clean as you go. Put a bowl of ammonia in the oven at night, close the door, and let it sit in there all night with the racks and any thing made of metal that has hard stuff caked on it. In the morning, it will all come off easily. Just make sure you open the windows and have fresh air when cleaning around ammonia. Wipe off your stove top often so food doesn't become hardened on it.
Use Bar Keepers Friend on your sinks to keep them shiny and clean. I use a Norwex kitchen cloth to keep my counters clean and the Norwex window cloth to keep the windows clean. Wipe out the frig whenever you see something that needs to be cleaned. Put the dishes in the dishwasher soon after using if you have one. The kitchen floor needs to be swept almost daily in my experience. None of this takes long at all but is so worth having clean kitchen.
In the bathrooms, make sure the sinks are continually wiped out and clean. Teach your children to clean up after themselves. I visited a friend years ago and she had two teenage daughters. I had to use the restroom and there were globs of toothpaste still in the sink and stuff strewn all over the counters. The mirror was splattered and the toilet was dirty. No, this should not be. We should never be embarrassed to have a visitor use any of our bathrooms. Toilets need to be cleaned often and the floor in front of them, especially if you have boys.
In your living and/or family room, make sure the furniture is dusted, the picture frames aren't crooked, and everything is off the floor when you go to bed since most children love to play in the room closest to the kitchen where mother usually is working. Learn to feather your nest each night! Keep all of their toys in one basket and make sure they help pick them up. The earlier you teach them to work, the easier it will be for them when they get older.
Plant some flowers in your yard and use them to decorate your home in the warmer months. Fresh flowers always add beauty to any home! You can also plant some fresh herbs to spice up your meals and make your food more nutritious and tasty.
If you're creative and have the time, paint pictures for your home, sew pillows and curtains, frame your windows with hardwood (I did this years ago for very little money!), paint the walls, and rearrange the decorations. Look around your home and figure out ways to make it more beautiful and orderly. Sometimes it helps to have a friend who has a good eye for organization and decorating to come and help you figure out new ideas and solutions.
Be constantly searching for new ways to be more efficient in your home and learn to love serving your family with joy! Make sure all those who live in your home and visit can see that you have a well-loved home, and as the queen of your home this is your job.
Thy wife shall be as a fruitful vine by the sides of thine house: thy children like olive plants round about thy table.
Psalm 128:3