Should We Rebuke the Devil?
Should We Rebuke the Devil?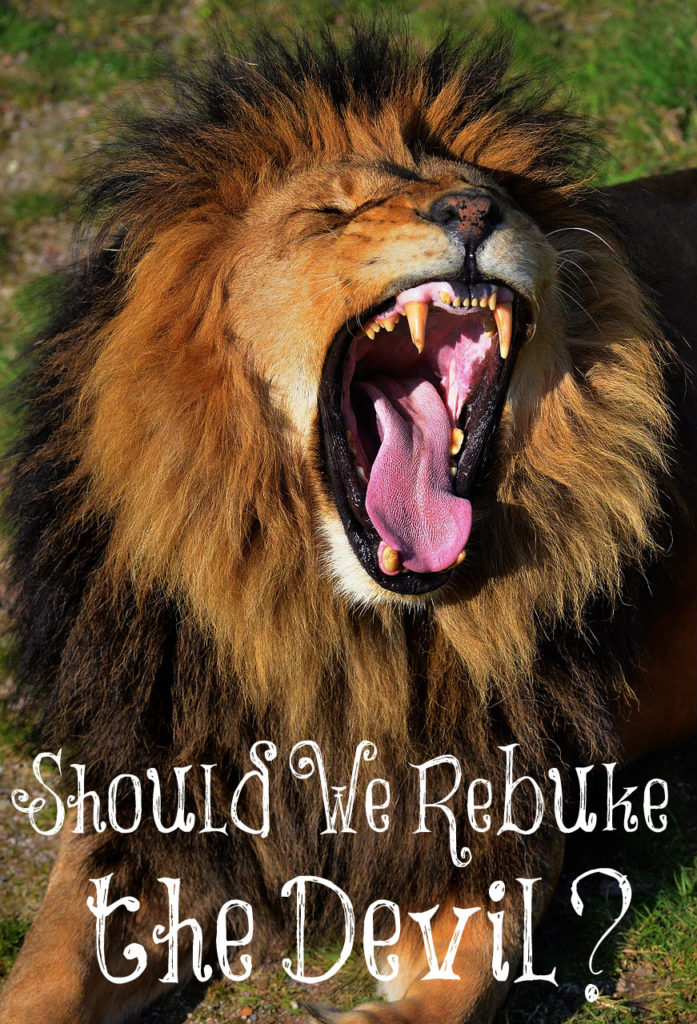 In the movie The War Room, Priscilla Shrier plays a wife who at one point "rebukes the devil" by screaming at him and telling him that he is to leave their home and stop destroying their family. This seems to be a common practice today among women especially. They falsely believe that it is their job to speak to the Devil and tell him to flee. Is this biblical?
For one thing, demons don't live in homes or inanimate objects. They live in fleshly things like people and animals. There's not one instance where a demon lives in a home in the Bible. There's no such thing as haunted houses, unless they have been created by people to appear that way. Therefore, we don't need to rebuke the demons! If you are a believer in Jesus Christ, you are an overcomer and He has defeated the Devil.
James 4:7 states, Submit yourselves therefore to God. Resist the devil, and he will flee from you. What does resist mean? Does it mean yelling at Satan? No, it means to "literally, to stand against." So how do we stand against the Devil? Was he not already defeated at the cross? I remember Michael Pearl saying years ago that the only reason God allows Satan to roam the earth is to refine His saints.
Gill's Exposition of the Bible interprets this verse this way: "Satan is to be looked upon as an enemy, and to be opposed as such, and to be watched and guarded against; the whole armour of God should be taken and made use of, particularly the weapon of prayer, the sword of the Spirit, which is the word of God, and the shield of faith; and also the grace of humility, than which nothing is more opposite to him: he is a proud spirit, and he endeavours to swell men with pride of themselves; and when he has worked them up to such a pitch, he is then master of them, and can manage them as he pleases; but a poor humble believer, with whom God dwells, to whom he gives more grace, and who comes forth not in his own strength, but in the strength of the Lord God, as David against Goliath, and who owns his vileness and sinfulness, and flies to the grace of God, and blood of Christ, Satan knows not what to do with him, he is puzzled, baffled, and confounded; such he leaves, from such he flees; he does not like the power of prayer, nor the strength of faith, nor the sharpness of the two edged sword, the word of God, nor the humble believer's staff, bag, scrip, and sling."
 The way that we resist the devil is to put on the full armor of the Lord explained in Ephesians 6:10-18. We spend daily time in His Word and hide it deeply in our hearts so that we won't sin against God. We pray to the Lord and ask that He be a hedge of protection around us from the Devil's wiles. We walk in obedience to His commands. We seek daily to become more like Christ by disciplining ourselves for the purpose of godliness.
In 1 Peter 5:8, 9, we are told how to stand fast against Satan and his attacks. Be sober: calm, not controlled by passions or alcohol, serious, habitually temperate (moderate), and calm. Be vigilant: watchful, circumspect, attentive to avoid danger. Whom resist STEADFAST IN THE FAITH.
Our faith is made strong through our trials and tribulations because we depend upon the Lord's strength to carry us safely through. This is, also, how we resist the Devil. We know his ending and its horrific. We are risen with Christ and are His children. Speak and pray to the Lord instead. We can rest in Him knowing that He is fighting our battles and He is always victorious.
Instead of rebuking the Devil and tell him to stop destroying your family, begin practicing having a meek and quiet spirit, live in joyful submission to your husband, be cheerful and kind, and obey the Lord in how He instructs you to live! He has laid out exactly how you are to live as a wife and He has given you everything you need for life and godliness. Satan was conquered at the cross and greater is He who is in you than he who is in the world. As you live with your husband as a godly wife, you are sanctifying him and he is being influenced by Jesus who lives inside of you. There's zero need to yell at or rebuke the Devil. Sing praises to the Lord instead!
Be sober, be vigilant; because your adversary the devil, as a roaring lion, walketh about, seeking whom he may devour;  Whom resist stedfast in the faith.
Peter 5:8, 9