Mothers at Home, You are a Magnificent Success!
Mothers at Home, You are a Magnificent Success!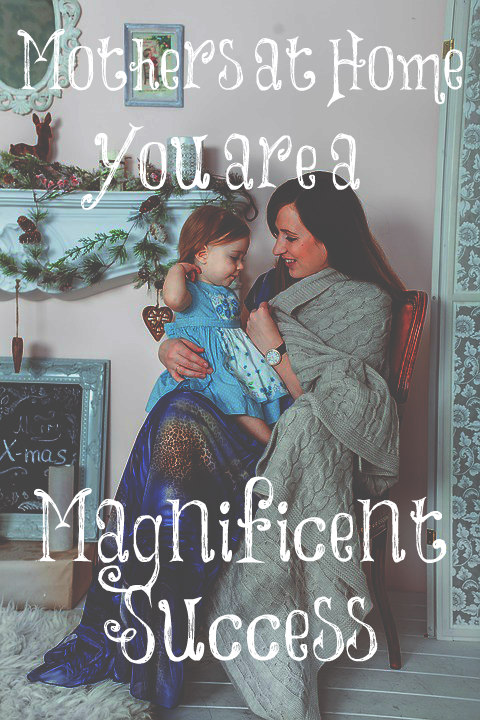 "Your choice to be a subtle whore leech. My choice to pursue my MBA and 40 year career. I am far above you in every level." This is a comment I received on my blog the other day. Yes, I receive many hateful comments but this one will be disproved by what I am going to share today. In The Federalist, there is an article called Why Do Feminists Say Women Aren't a Success if They Focus on Family?
The author shares the feminist agenda for women today: "get an undergraduate education; get more education to qualify for a white-collar profession; get married; wait the prerequisite few years to 'establish' yourself in your career; then and only then have a baby or two; go back to work and carry on exactly as if you didn't have a baby or two; outsource the raising of those babies to other (typically poorer) women; encourage your children to perpetuate this cycle."
If you don't follow this feminist agenda, you are looked down upon as this woman clearly told about me on my blog. No, I am not a whore because I don't deprive my husband of sexual intimacy. I am obeying God by not depriving him (1 Corinthians 7:5). No, I am not a leech because I don't bring home a paycheck. (She gets this from none other than Betty Friedan who described full-time mothers as 'parasites' and more recently, a 'deplorable' by Hillary Clinton.) I am obeying God by being a keeper at home (Titus 2:5). No, I don't have an MBA nor a 40 year career. I have been married for 38 years to the same man. I have raised four children and have been blessed with nine grandchildren so far. I have been a homemaker for 33 years but to feminists, I am a failure. Thankfully, I don't live my life to please feminists. I live to please the LORD.
"A feminist culture that disparages full-time motherhood necessarily places intense pressure on women to continue working and to maintain their level of professional success even after becoming mothers." I am hear to tell you that you don't have to continue working outside of the home when you have children. Who cares if you are called a whore, leech, deplorable, parasite, or whatever other degrading words feminists want to call you. You are a child of the Most High King, the Lord of LORDS, and loved by Him. He wants you to be a keeper at home and love on your babies and children full time. This is His will for you!
This article does mention that a full two-thirds of working women do not want to be working full time but few people are telling them that they don't need to be. In fact, the workforce is not where they are called to be!
I love how this article ends: "When I envision female role models, the formidable Paglia comes to mind, but so does a woman who has chosen to embrace a more 'traditional, gender-based role.' 'Laurie' is a relative from my home town, a warm-hearted woman in her early 70s. She is the matriarch of a family of three grown-up children, their spouses, and six grandchildren. She has been married to her husband 'John' for over 50 years.
"Their division of labour was conventional: he worked outside the home and she worked inside it. Laurie does not have an undergraduate degree. Laurie has devoted her entire life to family and community. With Jane's superficial understanding of what it means to be a successful person, I think she would view Laurie as just a small-town housewife, someone below her: a failure.
"She is not a failure, Jane. She is a magnificent success."
Mothers at home full time, you are NOT a failure!!! You are a magnificent success. You are doing exactly what God commands that you do! There is NO more important job than raising the next generation. Don't listen to the lies of our culture and find joy in God's good, and acceptable, and perfect will for you.
But ye are a chosen generation, a royal priesthood, an holy nation, a peculiar people; that ye should shew forth the praises of him who hath called you out of darkness into his marvellous light.
1 Peter 2:9